Friday, May 27
Miss Universe 2005



Seems like the Australian media isnt too hot with beauty pageants...with just a few days to go before the Miss Universe pageant...no. of Miss Universe news in Melbourne's The Age: zilch...

Since the Australian media has no intention of reportin it...i'll do them a favor and do some nosy research on my part...

Miss Australia Universe Michelle Guy is one of the favorites to win this year's pageant...what with Australia's Jennifer Hawkins winnin last year's event my crystal ball sees a disturbance in Michelle's force...all the pressure's on her...




But dude Jennifer...wtf are you on...Michelle's a fawkin Frenchie! And you know what they say bout Frenchies...Slap her she's French! (8/10 Cute!)

The controversial shoot in the temples last week...




Michelle and other models posin for the cameras and obligatory publicity...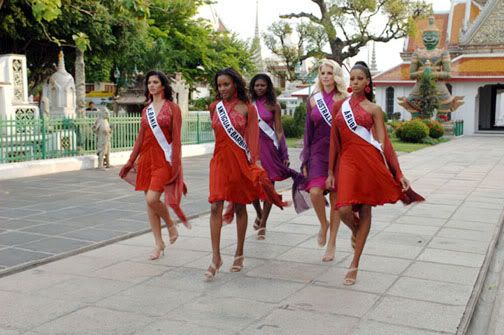 Just in case anyone cares...here's the representative from my country Singapore...Cheryl Tay...




Fawk...ive seen beauties...and ive known beauties...and Cheryl's nowhere a beauty...she looks like she's been hit by a truck travellin at full speed...and the truck driver does a hit-and-run...Asia can always spare another slant eyed gook...(0/10 she's Singaporean nuff said)

And is she on a liquid diet? Cmon...get some meat already...we men like you all meaty...

Japan aint farin too good either...here's Yukari Kuzuya...




It must be the slant-eyes...or all the kinky fetish Jap porn they produce...but Japs fail to see Yukari's figure matches that of a plywood...fuckin straight and flat...yeah...just as flat as the airplane runway she has on her chest...(3/10 Tryin too hard!)

Ahh yes...a group shot...all the lurveee...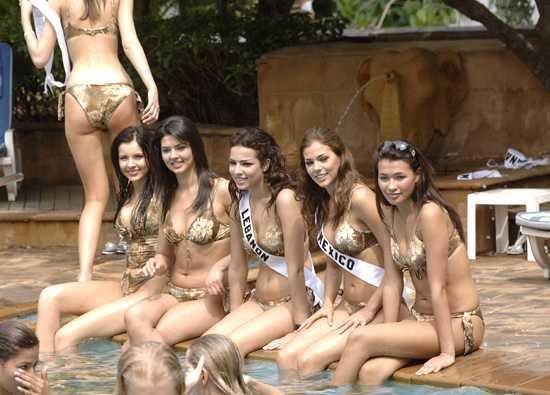 (From left to right) Natalia Nikolaeva, Miss Russia Universe 2005; Agnes Vuthaj, Miss Albania Universe 2005; Nadine Njeim, Miss Lebanon Universe 2005; Laura Elizondo, Miss Mexico Universe 2005, and Helene Traasavik, Miss Norway Universe 2005.

Miss Russia looks like a Mary Jane-and-a-half...oh boy she's cute alright! (8/10 cute!) Miss Albania wtf? She's from Eastern Europe! And Eastern European chicks are hawtttt...but this Albania crap is a waste of time...ive seen better ones on some poorly produced Eastern European porn...(5/10 Cheap imitation!)

Lebanon and Mexico? Hello there sunshines...North African and Latinos? Nuff said...(8/10 Hotties!)

And cmon...this year's Miss Norway looks nothin like last year's porn star...and arent Norwegians famous for their blondes? This one's not! (6/10 Fake Norwegian!)

Another group shot! This one's got the fake Norwegian in it though...but hey! There's Miss Australia! Go Aussie!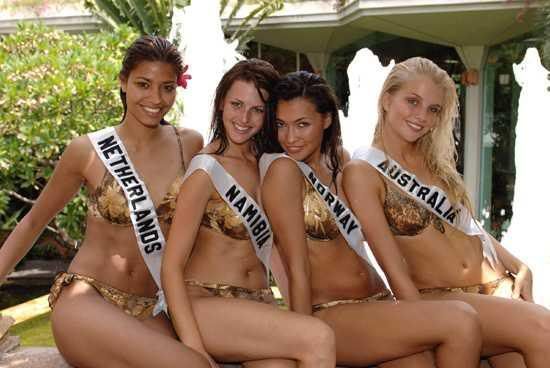 (From left to right) Sharita Sopacua, Miss Netherlands Universe 2005; Adele Basson, Miss Namibia Universe 2005; Helene Traasavik, Miss Norway Universe 2005, and Michelle Guy, Miss Australia Universe 2005.

Miss Netherlands looks kinda hot! (7/10 Fresh new look!)...and wtf Miss Namibia is a white? Im aware of British expats workin in Zimbabwe and Namibia...but wow! Looks like i should have gone to Africa for my degree! (7.5/10 Cute!)

More photos can be found on the
Sydney Morning Herald
.
Subscribe to Posts [Atom]