Thursday, May 26
LiverBoo Wins Cup
adrock2xander is 3 months 27 days without a cigarette.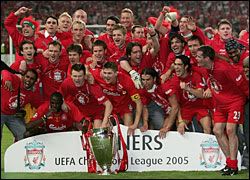 Liverpool have won the European Champions League Final...wow...big whoop...but coming from 3-0 down at half-time? And against one of the greatest team ever in AC Milan?

Absolutely...pants down...prostitute suckin ya cock...dope in vein...chained to wall the most amazing game ever...

If any fuckin Aussies here doubt the allure of soccer...do watch the game...perhaps ya lame ass FOOTY will be relegated to a back seat no?

Subscribe to Posts [Atom]