Wednesday, May 25
Chew On My Burger Paris
adrock2xander is 3 months 26 days without a cigarette.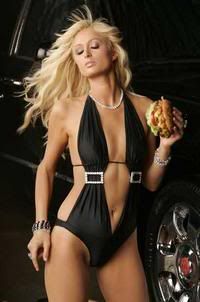 There is only one reason why men call Paris a slut...and that's coz those men are smart enough to know Paris will never look their way...

I...on the other hand...am smart enough to make fun of her...so she'll find my adulations and sense of humor charmin...and she just might consider me for a 30-minutes sex tape escapade...

Anyway i digress...

Advertisements and the promiscuous use of sellin a product through sex has reached a new low...

Screw-alicious Paris...half naked...washin a Bently...promotin a burger? Cmon...someone tell me the correlation makes sense...

Then again...if the ad's only
available online
...wouldnt the 'restriction' drive up sales of the burger? Or was that the car? Damnit what is Paris tryin to sell anyway...

Just give me Paris already...screw the burger...and screw the Bently...i'll show her my idea of the simple life...
Subscribe to Posts [Atom]