Thursday, May 19
Brewery and Buddhism! Bah!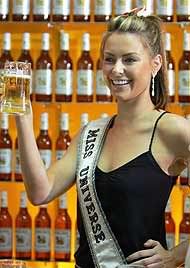 Jennifer in a Thai brewery.

Miss Universe 2004 Jennifer Hawkins is in Thailand to promote this year's Miss Universe pageant...sparkin off
a reaction
in other ways than one...

Models were paradin in their swimwear in front of Buddhist temples...enragin many religious and political leaders...wow...big hoot...

Someone explain to me why the Thai people are still so bloody obstinate? It's the 21st century...what with globalisation and all...women bearin their tits and gay love parades are a dime a dozen...why cant the Buddhists adapt to the Americanisation and just accept that Buddhism is for fools who think skinhead is cool and goin vegetarian is clean...
The world has more pressin concerns to deal with...we dont need another bunch of self-centered red necks whose lives revolve around a fat & bald man...
Get a grip Thailand...and deal...
Subscribe to Posts [Atom]