Wednesday, March 30
Spiderman vs ???
adrock2xander is 1 month 31 days without a cigarette.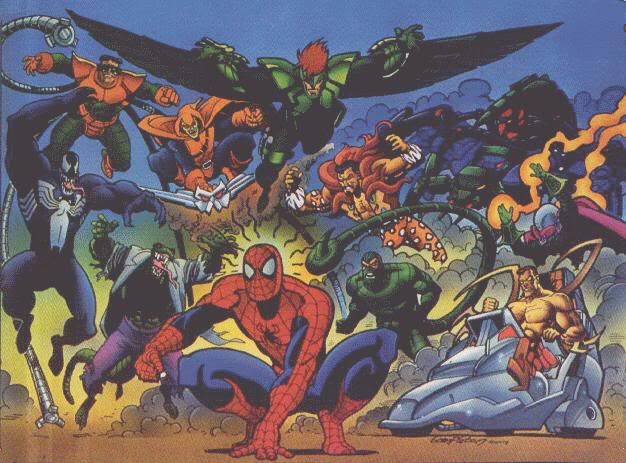 Hands up if you arent a fan of Marvel comics...

*a beat* Ok ya all fuckin losers...get the fuck outa my site...

A greater part of my youth was spent devourin the genius that is Marvel's ability to conceptualise and produce remarkably outragioues and/or realistic...heartfelt and excitin storylines that revolve around my favorite superheroes...in fact...they're so bloody good...im gettin excited just talkin bout them now...

Speakin of Marvel...im really disappointed at Sam Raimi's decision to use
Sandman
as Peter Parker's nemisis in
Spiderman 3
...granted Sandman was one of Spidey's oldest foes that goes back decades...but Sandman is so not fuckin cool...maybe im just not a fan of Sandman...tossin wads of wet sand at a springy Spidey just isnt my idea of a fair fight...have Sam and his crew not thought of:

1. Dr Curt Conners -
Lizard
This would be MY first choice for Spidey's enemy...Lizard is bad ass scary and fuckin violent...

Before the tragic limb-regeneration experiment happened...Dr. Curt Conners was Peter's good friend and close ally...it was clearly indicated in the comic book and Spiderman 2...fleshin out his story and the emotional pain Curt was goin through would have been so fuckin awesome...and the bloody fights Lizard and Spidey get into...wowzers...

2. Harry Osbourne -
Green Goblin 2


Harry Osbourne already knows of Peter's secret identity...and he blames Spiderman for his current predicament...GG2 would have been such an obvious choice...

Yet if you think bout it...GG2 would have been rather borin...the audience have already seen the original GG battle Spiderman...GG2 would have been one too many goblins in the air...

3. John Jameson -
Man-Wolf
J. Jonah Jameson's son John was featured in Spiderman 2...in the comics he had returned from space with a serious side effect - a moonstone that John found had attached itself to John's throat...turnin him into the bloodthirsty Man-Wolf...

I wouldnt think the Man-Wolf would have gone down well with Spidey afficionados...the clueless general public wouldnt have thought anythin bout it...but the Man-Wolf was too trivial an enemy...

Yet...you cant mention a space artifact without mentionin...in the same breath...

4. Eddie Brock -
Venom
Spiderman's greatest enemy will never be shown i reckon...unless there's a subplot in Spiderman 3 that involves Peter gettin involved in the
Secret Wars
...

But that it self is another story...and would take a good 2 hours...coz there's no way Spiderman 3 would fit in the cast of X-Men...Avengers...Fantastic Four yadda yadda...

5. Sinister Six

This could most very possibly be the plot/side plot of Spiderman 3...with Doc Ock's death in Spiderman 2...the remnants of his team Sinister Six (Sandman,
Mysterio
,
Kraven the Hunter
,
Vulture
, and
Scorpion
) are now back in town to defeat our friendly web-crawler...

And with Sandman's inclusion as the bad-ass villain with the most screen time...Sinister Six Five would post a new challenge to Peter's inner turmoil and identity crisis...

6. Max Dillon -
Electro


Electro would be a decent enemy for Spiderman 2...a arrogant and petty thief with plans to kill Spidey as he stands in his way...but therein lies the weakness of the plot...Electro just doesnt have enough material to fill the movie...and he sounds like the male counterpart to Elektra...and that movie bombed...

Besides...who in the right frame of mine would wana wear Electro's lame ass face mask?

I wait with glee at what surprises Sam has to throw up next...perhaps
Aunt May
finds the elixir of youth and becomes a superhero...

Subscribe to Posts [Atom]