Monday, December 13
I hate Christmas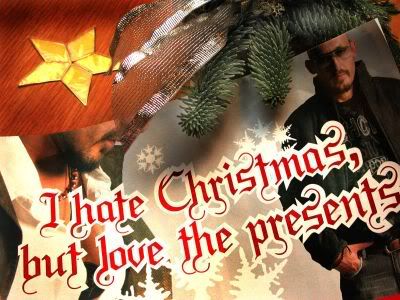 It is that special time of year again...where picture perfect postcards of fallin snow and happy families are depicted in greetin cards...where everyone gets to celebrate the awesomeness that is God's magic baby who was born many years ago on December 25th...now who the fuck told you to be all merry in this special festive period? God certainly didnt tell me to be merry...coz based on the number of issues and problems that increased on a weekly basis...i would think that dwelling on at least one of the following things is a really cool thing to have...
Figure this out...my life is fucked up...coz:
1) My kid brother's a fuckin douche-bag and i would kill him if i could...

2) For the first time in many years im not alone for Christmas because my gorgeous girlfriend is around...and that means i wouldnt be wakin up on Boxin Day...all sloshed with champagne and turkey...with a chick lyin naked next to me in bed...whose name i do not know...
3) I was so focused on pleasurin my girlfriend it took me 4 hours to achieve orgasm...now tell me how stressful that is...

4) My parents are gettin divorced...

5) My waistline is beginnin to show it's middle age...burgeonin at an alarmin rate in spite of my frantic attempts to lose em...

6) I refer to some foods as "comfort foods"...coz my school term in Melbourne, Australia looms...and that freaks me out most times...goin back to school after all these years...

7) I'll be so fuckin old when i start classes...everyone's gona be in the late teens...while im old enough to be a Grandpop...

8) Im gona give up my job...that means no fuckin money...
9) I get to hear millions of people bitch about how they HATE Christmas because the MALL IS SO CROWDED and their annoyin bratty kids want the latest PLAYSTATION when they all ready have like four game consoles...fuckin idiots...
Now who else agrees with me on this?
Subscribe to Posts [Atom]