Tuesday, November 16
Best. Basketball. Game. Ever.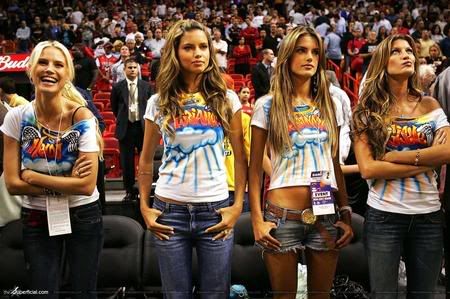 Im not much of a fan of models...you know...them of the catwalk type...i mean...give one to me and sure i'll fuck em hard...but they never really appealed to me...most times...they're assless...boobless...too leggy for my likin...and they've got this look that says "WHO KILLED MY DOG LAST NIGHT??"...so yeah...not likin them too much...

But this caught my eye...

The
Angels Across America Tour
is to celebrate and present the 2004 Victoria's Secret Holiday Gift collection...top supermodels Tyra Banks...Gisele Bundchen...Heidi Klum...Adriana Lima and Alessandra Ambrosio made special appearances at sporting events and a rock concert...interactin with fans...donating memorabilia and their own very special version of the "walk of fame" ...

Seriously...why the fuckin big fuss and media coverage over 5 overpaid and fuckin-icious struttin their stuff? If it was me...the only models worth fussin over are Heidi Klum and Alessandra Ambrosio...and OMFG if you ppl dont know who they are in the picture you might wana consider to be a monk...

For the uninitiated...Heidi Klum - extreme left and Alessandra Ambrosio - 2nd from right...

*Suppresses erection and winces* God...hot blonde and brunette...eeeshhh...excuse me while i pleasure myself...


Subscribe to Posts [Atom]