Wednesday, August 25
Let's all make Sri Lanka our home (Director's Cut)
I am not a living-along-the-beach-person. Never have been. The idea of livin along a coast with the smell of salty sea lingerin in the air...the sun bearin down on me with a Franklin Roosevelt intensity and sand in my shorts and flip flops never did appeal to me too much...all that changed two weeks ago when i descended upon Sri Lanka's south-west coast for a short company trip.
Indeed...it's one of the best experiences of my life.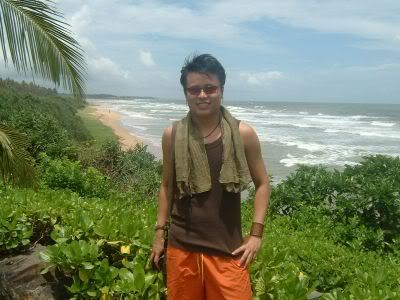 Mention 'sun, sand and the sea' to most Singaporeans and the usual been-there-done-that of Indonesia, Malaysia and Thailand islands come to mind...never Sri Lanka. Im writin this now...to debunk that myth. Truly...to describe my 5 days spent in the tear shaped island is tantamount to multiple orgasms
without
the aid of Kegel exercises...the magnitude of the beauty that charmed the socks off me is only dwarfed by the number of superlatives i could possibly conjur up...
I've never been to Africa...we all know where it is...the Dark Continent's still very much the unchartered touristy destination as it is...but this was the closest i got to Africa...all 3500 km away from it...
The south-western coast of Sri Lanka...it turns out...is a major Sun, Sand and Sea tourist attraction. Stretchin over 300 km from Marawila, north of Colombo, the beaches continue through Negombo, stretchin south through Colombo, Kalutara, Beruwela, Bentota, Ambalangoda, Hikkaduwa, Galle, Unawatuna, Weligame, Matara, Tangalle and Hambantota.
Im gona make a very strong emphasis on the regality of the hotels and resorts that dot the coast...at times i feel as if the Sri Lankan peeps
over-pamper
their guests...over-compensatin for the country's borderline poverty...many times i sit in hotel rooms that has been allocated for us...with the distinct knowledge that just 500 meters outside the vicinity of the hotels lies Sri Lankans livin in disjointed shanties...ramshackle houses and unlit roads...and here i am livin like a fuckin King...
That fact didnt hit me like a slap to the face...but rather a gradual discovery as the days progressed...arrivin at a quarter-past midnight...i was reminded of the
civil war
up in the North-East that threatens the general safety of everyone...small pockets of bunkers lie along the perimeter of the airport...with vigilant soldiers standin with machine-guns...as a 3rd generation Singaporean...scenes like these are straight out of a Hollywood movie or
Tom Clancy
novel...as it is...southern Sri Lanka is as safe and as uninterested in its civil war as me datin a Mongoloid...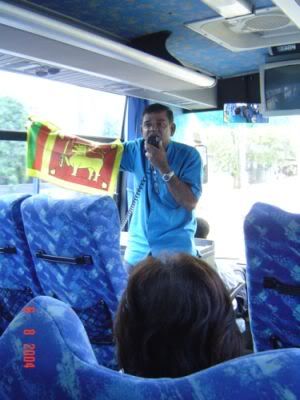 We were quickly escorted by our very knowledgeable host Dudley...his thick Singhalese accent took a 'lil while of gettin used to...at times i found myself strainin to understand what i classified as 'gibberish'...but noone's complainin...as a seasoned tour guide with a dodgy accent beats a tour
sans
guide anytime...
First hotel we're puttin up! The Colombo Plaza. Surrounded by 10 acres of beautifully landscaped garden and situated in the heart of the city...the hotel's near the business district and also in close proximity to the main arterial road and walking distance from the city center...major diplomatic missions and shopping malls. Understandably the hotel's ultra modern...with all the ammenities one would find...i kinda thought it was excessive...the hotel's catered for expatriates and tourists with no budget whatsoever...
The Colombo Plaza lobby...nothin too fanciful...nothin we havnt seen before...but still worthy of pictures...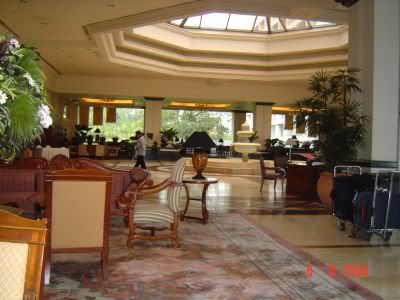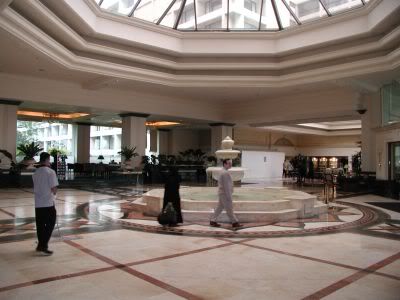 The pool...pretty non-descript...considerin the pools im gona be visitin in the next few days LOL...and room...standard room fare...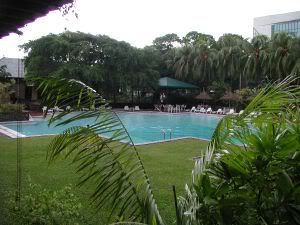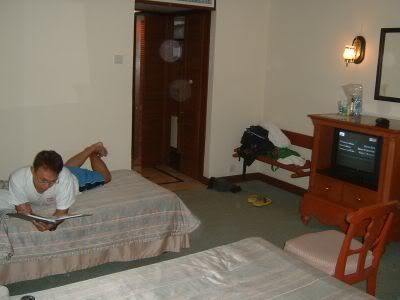 The most outstandin feature of the Colombo Plaza lies not outside the hotel...but within its premises...a huge mural (or is that a fuckin carpet?) that spans 10 entire stories...quite a sight...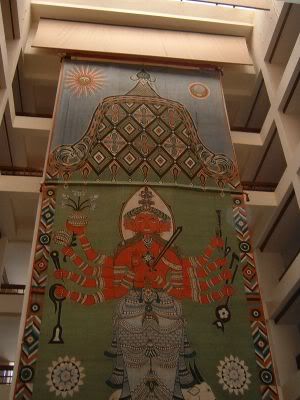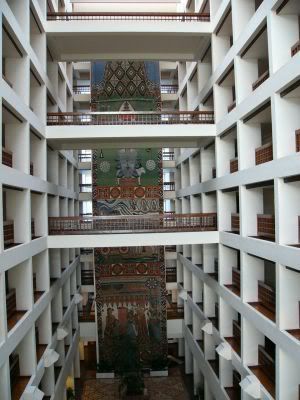 I came to Sri Lanka with a mind to rough it out...i must say i had no idea what kind of livin standards i would have been puttin up in...but havin spent a night in the comfortable Colombo Plaza...i can only say "OMG what a great hotel? Let's rough it out already."
The Colombo Plaza is available for US$110 a night for a double room. Breakfast inclusive. Batteries not included. LOL.
Havin arrived in Colombo at night...it was hard to make out the sights...i was anxious to take in what Sri Lanka has to offer...and my anxiety was uncalled for as we left Colombo Plaza right after breakfast...
The streets of Colombo leadin to the narrow windin roads leadin to the South was a cacophony of blarin horns...loud music...fearless pedestrians playin Russian Roulette with vehicles...stray animals (read: dogs...lots of it, buffaloes...even more of it, cows...enough beef to feed the entire American population for a year) wanderin with no particular intent...
That...is a police post...LOL? The picture on the right is a 'lil Buddha that sits in a shrine along the road. Religious deities and shrines like these are visible in all parts of Sri Lanka...they represent the 4 main religions of Sri Lanka...Buddhism...Hinduism...Roman Catholics and Anglicans...we must have driven past hundreds of them along the coastal road...it's interestin to see the contrastin religious beliefs of the local community...one moment it's Buddha...another moment it's Mother Mary...and was that Lord Vishnu i spy?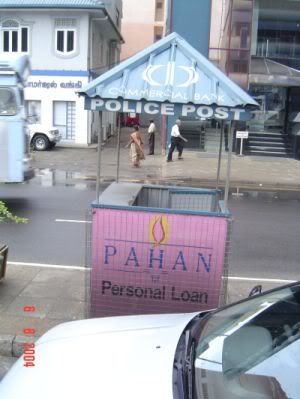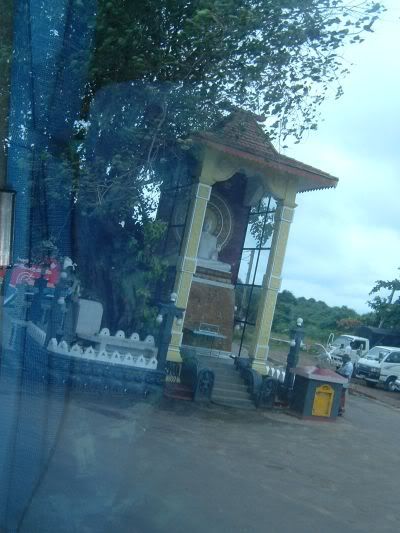 I felt an unspoken bonding on the road...a vibe i get from the locals as we drove...i made it a point to stick my head out of the coach for most of the journey...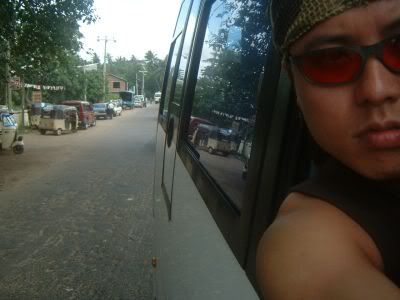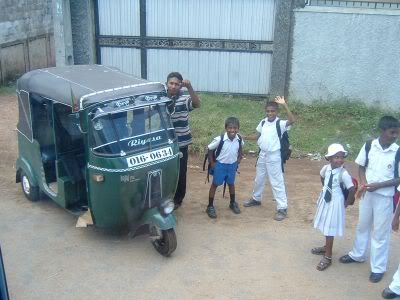 ...sittin in the comforts of an air-conditioned bus and lookin through a tinted window just aint cut it for me...the locals are incredibly friendly...as tourism is relatively new...the sight of foreigners whizzin past them in huge coaches as they go about their daily business are always an incentive to flash their pearly whites and wave at us...sort of like a "We appreciate your visit here despite our problems." One thing though...i noticed it's mostly the men who wave and smile without promptin...the women are strangely subdued...and even after repeated gesticulation on my part...the women only smile shyly and look away...i wonder if the culture deems individuality of women as blasphemous?
It's strange though...they say the rich and well-off are never truely happy...but the peasants...though poor and livin off their hands and mouths...are contented with what they have and are always willin to share...which makes me wonder what kind of people first world cities are groomin their citizens to be...New Yorkers...Londoners...Parisians...Tokyo-lites and even Singaporeans have alot to learn from these humble Sri Lankan folks...
Street vendors sellin their wares are a common sight...the sight of foreigners in a coach proved to be a huge hit with them...as we gamely bought food from them...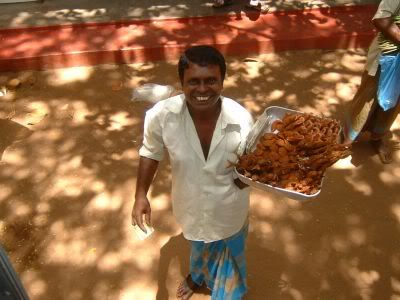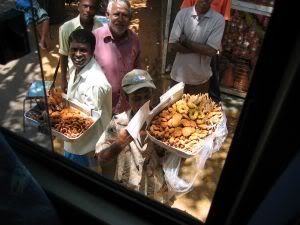 A greedy me decides to try out their fish and shrimp in batter...gosh they're fuckin tasty...wrapped in a piece of paper fashioned out of a magazine...highlight of the meal? A fish and shrimp meal costs just 40rupees (S$0.70 or US$0.40)...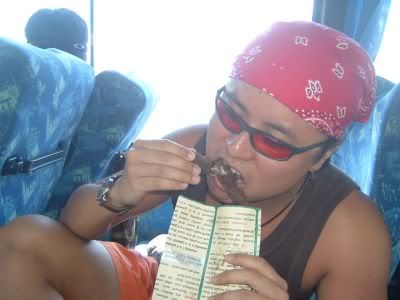 The journey to our next destination Bentota took enough time for mushrooms to propogate from my buttocks...it's not too much the distance...it's not really that far...Sri Lanka isnt really big to begin with...but it's the windin roads that run parallel to the coast that kinda pissed me off...a great ocean view that doesnt warrant picture perfect moments coz we're in the coach all the time...at times i felt like walkin over to the driver and strangle him...
"Let us out of the coach to take some bloody pictures!"
The picture on the right's quite the quaint sight...that's a bloke sittin on a stilt actually
fishin
...i have no idea how he sits/squats on that...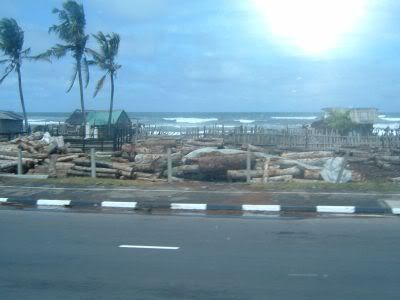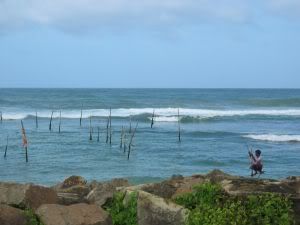 We arrived in Bentota on the cusp of 2pm...it must have been a 4hr coach ride easily...dazed and confused from the mushrooms sproutin from my ass...i half-struggled to sit up from my coccoon position to find more mushrooms in the coach...fuck the ride's takin too bloody long...it feels like we're already livin in the coach...yeah...a 2-star
Jetwing Travels
hotel...what an experience indeed...
Gently pluckin the
Shitake mushrooms
from my ass with a view to cook em later...we find ourselves traversin along a narrow route that runs parallel to a train track...just seconds from an expletives-hurlin holler...i spied the coach pullin up to a funky hotel with an even funkier name...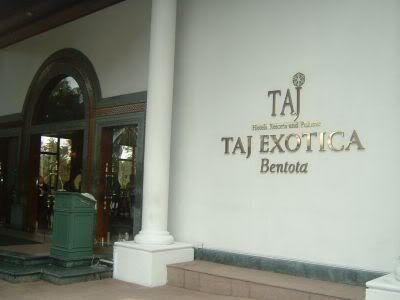 WTF...i was always under the notion that the term 'exotic' applied only to how Asian women were seen as by stupid Caucasians with a serial brain deficiency...yeah...to all you white punks out there...yeah...the Asian women are 'exotic' indeed...their breasts smell of white lilies...their pussies have ornate carvings on them...their bodies are a shrine for holy prayers...yeah...'exotic' indeed...
Non to impressed...the weary travellers stepped out of the coach...i was just glad to stretch my limbs and take in some sunlight...as usual...we were greeted by the sincere smiles of the hotel porters and doormen...
Steppin into the hotel lobby...i began to make sense of the exclusivity of the hotel...the Taj Exotica sits on a 'lil hillrock...the slightly elevated position overlooks a long stretch of palm fringed golden beach and the lapping waters of the Indian Ocean...i found myself starin at contrastin scenes...while one side of the hotel faces the road...the other side faces the sea...one word: beach...
View from the lobby...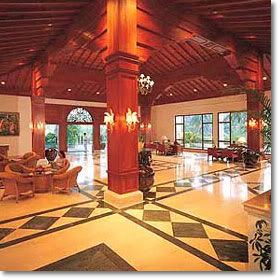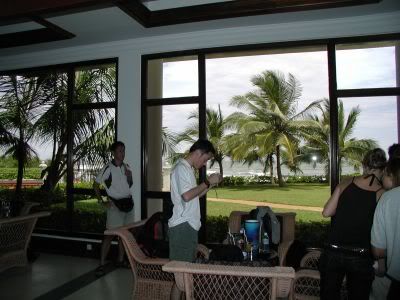 The waitin area...with an adjacent bar...bathed in sunlight...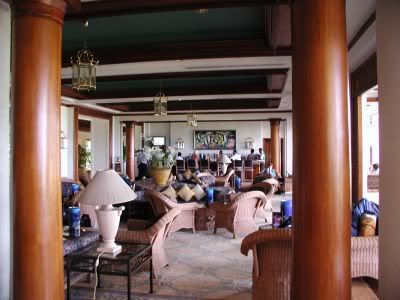 Given our keys...we follow the directions that leads...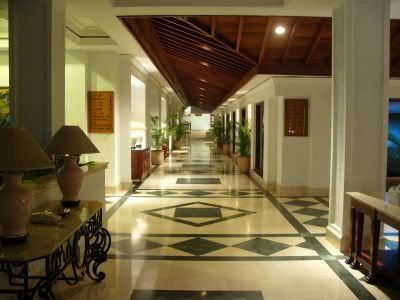 ...to our rooms...with a view...OMFG what a view...
I fell in love with the place immediately...not wantin to leave...EVER...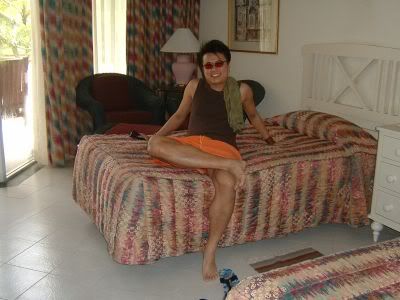 We were given the afternoon off to do what we want...an option was given to travel the nearby river on a boat...takin in the sights from it...but John has common sense...he's not comin all the way here to ride some stupid boat...he's a 100 meters from the beach...all he wana do is tan...
And tan he did...spread-eagled on the beach recliner...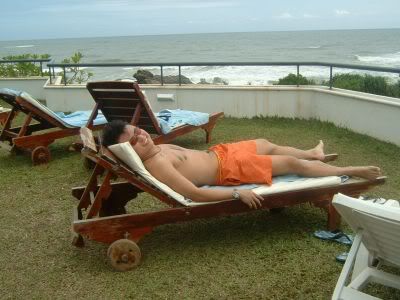 I gota say...im stunned speechless...the view was absofuckinglutely amazin...from where i sat...i could see miles and miles of trees...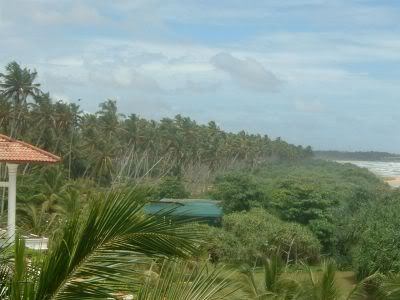 ...and beach...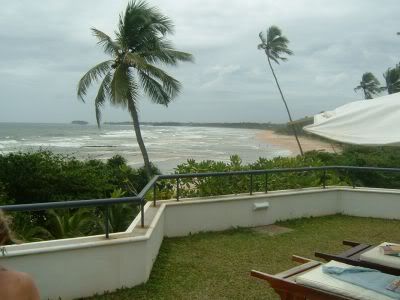 The beauty of the Taj Exotica Bentota must have gotten into some people's head...as we even had a chance to catch the lovely weddin of a couple...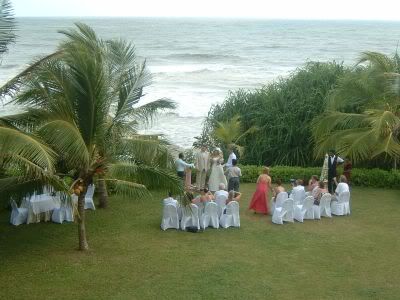 I guess they do deserve a chance with one another...how sexy and memorable it is when a woman thinks of the moment her man says "I do" in a resplendent backdrop of Bentota?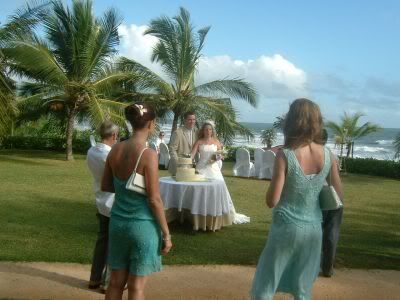 Fuckin magnificent...considerin where we were...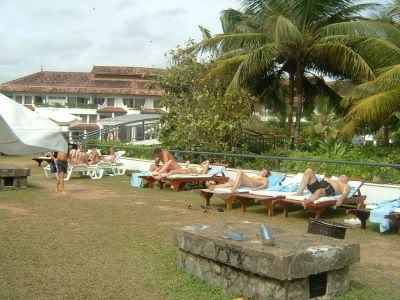 A lovely blonde approached me with a big smile...i thought i'd gotten lucky...to my dismay...it was only Stephanie (LOL...)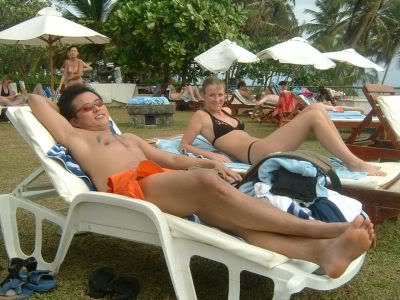 The sun and breeze from the Indian Ocean was a force to be reckoned with...i found myself burnt to a crisp red...takin the sensible route...we dipped in the pool to cool off...call me a country bumpkin...but a pool with an attached bar...Holy Mother of God...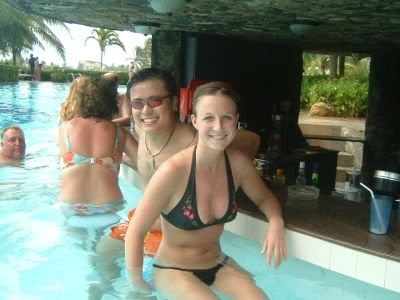 That afternoon must have ranked right up my 'Top 10 moments of John's life"...honestly...nothin beats tannin topless in the sun with a view that keeps any mouth open...orderin drinks and finger foods from the bar...gossipin bout life (
read
: Stephanie's horde of admirers...life in South America...the beautiful nurse im datin in Melbourne...Stephanie's horde of admirers...music...Stephanie's horde of admirers....did i already mention Stephanie's horde of admirers?) many thousands of miles away...oblivious to the stares that we gave the mostly Caucasian demographic...
The group had to convene at 5pm for dinner...i found myself most unwillin to drag my yellow ass outa the recliner...honestly...
who would
??
Descendin upon the lobby...freshly scrubbed with a lobster hue...we decided to have dinner along the beach in a quaint shack that served up seafood to tourists...it wasnt too far...a 10 minutes walk away...but havin seen enough of the beach...i decided to take the route 'more' travelled by utilisin a cheap and public form of transport all Sri Lankans use...the oddly named 'tuk-tuk'...a 3-wheeled manifestation...tiny as it is...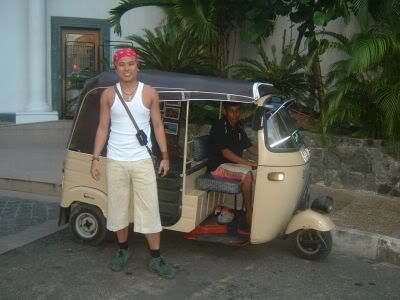 ...travels at relatively great pace...the key to gettin around in a 'tuk-tuk'...is to negotiate a cut price with the drivers
before
you get in vehicle...i was warned by Dudley that these drivers tend to overcharge tourists...i hate hagglin when it comes to dollars and cents...but i hate it even more if ive been short-changed...it's a good thing the driver's a really nice bloke...so we agreed on a 100 rupee trip...it takes 2...so my room mate Bryan clambered into it...
Sittin inside with the breeze to my face...i had a good 5 minutes to breathe in the salty sea breeze that's layered with exhaust fumes and finely crafted furniture from emboweled timber...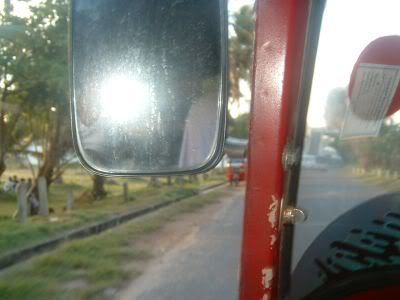 ...takin a picture from a 'tuk-tuk' that's zippin around proved to be a relative hassle...Bryan and i had a massive ass-ache...someone should fit suspensions in these 'tuk-tuks'...
A really nice bloke the driver is...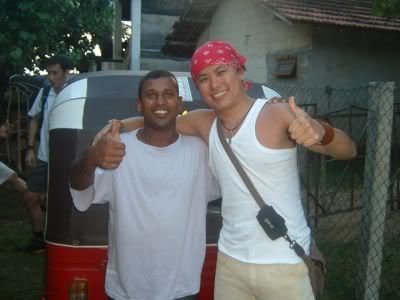 We dropped off a trail that leads to the 'seafood shack'...and stumbled upon a beautiful train track that seemed to mirror the trees that line along the beach...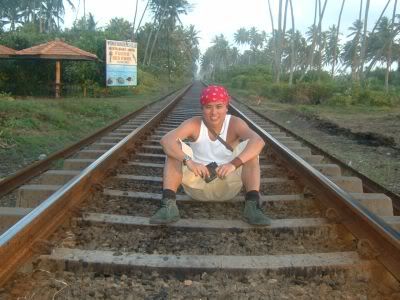 Stretchin for miles and miles...the track stood there like a silent pallbearer...waitin in solitude for its turn to play out its responsibility...safely transportin caskets of livin beings in trains that arrived once every 5-7minutes...i'd wanted to hear the roar of the train as it raced passed me...so i waited patiently for the train to arrive...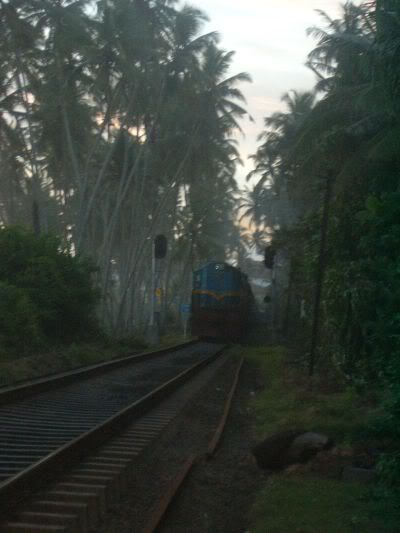 Walkin over to the 'seafood shack'...very charmin 2-storey hut that obviously hasnt been patronised for quite abit...the waiter had us waitin for a good 2 hours for the food to arrive...an hour to hire cooks and waiters...and another hour to cook up a storm...non that we were complainin...there were enough sights to keep us occupied...
The silence that we've all gotten used was disturbed with a distant rumblin...for awhile i had a terrible
Jurassic Park
premonition..."WTF is that?" Then i realised i was just being silly...the train had arrived...runnin out to the tracks...the train emerged from the distance...a smooth deep roar of wind and tremblin of the ground greeted me...i dont quite think ive ever been so close to a train travellin at full speed before...even T-Rex couldnt have kicked up such a fuss...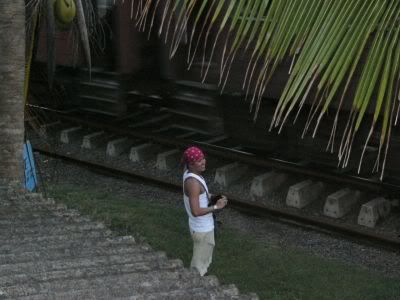 The ramshackle hut that doubles up at a seafood joint...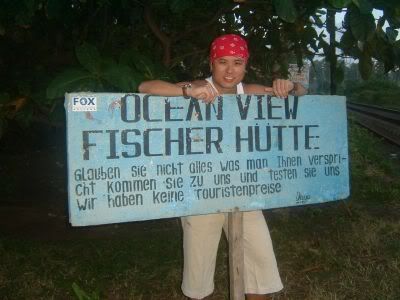 The dinner took forever to arrive...so i snuck downstairs for a casual smoke of weed...i must say...it's my virgin attempt at the strangely sordid lookin plant...rollin the joint was easy...and smokin it was even easier...the frantic poppin of the seeds that were embedded in the joint only made it more comfortin as the fragrant smell of marijuana filled the room...it didnt give me any high...it tasted just like a cigarette...so i inhaled deeply...fully enjoyin the experience..."That's it? That's nothin at all!" i thought to myself...
Then it hit me...15 minutes after the joint...i felt very light-headed and a massive inability to concentrate...i knew where i was...conscious is the word...i could still walk in a straight line (very nearly not)...but i felt extremely flighty and euphoric...as if i was floatin on air...i remembered being
very
happy and wantin to take on life's unanswered questions...constantly blinkin and shakin my head to shake off the effects...
I remember too...that i almost had a panick attack...last thing i needed was to go up to dinner lookin like ive most my marbles...but fuck...i
knew
my marbles were already lost...i began to see strange manifestations and visual effects...things that didnt exist or happened were playin out in front of me...i began to imagine things...i cant remember what happened in the next 30 minutes...but several days later...Stephanie...who sat next to me...told me i had the classic 'high' effect...i was tellin everyone in the table to STFU when all they did was whisper in my ear...i'd imagine they were yelling so i joined them in the yell-fest...God...come to think of it now...i just made a complete fool of myself...but hey...it was a jolly good experience...i can now officially join the hippies' code of 'Peace, Love and Flowers'...
Sri Lankan cuisine must be heavily reliant on tomatoes...dinner was a tasty if somewhat tepid affair...fresh shark meat with tomatoes...fresh tuna with tomatoes...i know there were other dishes...but i was too incoherant and inebriated to remember...all i knew was the existance of lotsa tomatoes...
Headin back...everyone decided to get sloshed on booze...and how else to rid ourselves of the toxic agents than a night at Taj Exotica's very own club! The very aptly named: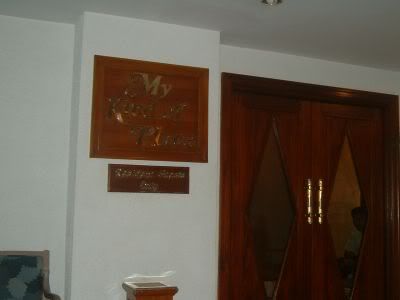 Yeah...My Kind of Place...yep...we lived to tell the tale...what tale? A tale of silly dance acts and clownish behaviour...i daresay we put the Caucasians...all dressed up for a night's out...to shame...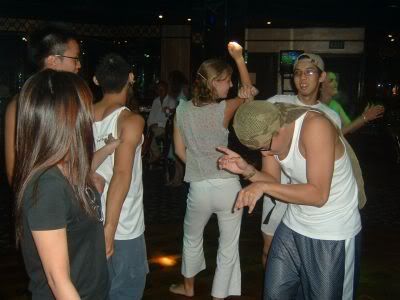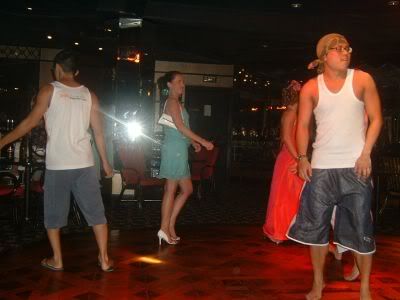 Coz...we simply could not have humiliated ourselves more...the dance moves we had...even John Travolta would've been proud LOL...all of us woke up the next mornin not knowin what hit us...i cant speak for the rest...but i felt like my head was a permanent fixture on somebody's punchin bag...
The Taj Exotica is available for US$130 a night for a double room. Breakfast inclusive. Batteries not included. LOL.
Headin west towards our next destination the Yala Safari...we found ourselves growin yet more mushrooms from our asses as another 4 hours drive took centerstage...it's so fuckin annoyin...why cant we just fly...then i was told...there're no inter-island flights in Sri Lanka as the Colombo Airport is the
only
airport...
grrrreeeaaattt
...
Highlight of the drive...the southern-most point of Sri Lanka...nothin fanciful...but worth notin: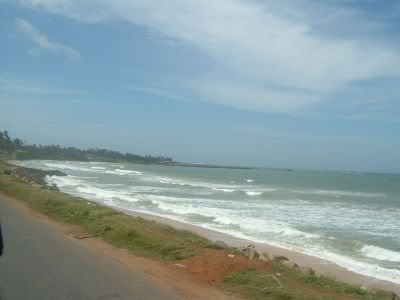 It's interestin to see the contrastin vegetation as we drove along the South coast...to the inlands and arid plains of Yala...it was visibly more sparsely populated...very very dry and hot...as we entered Yala...i was told that the region is currently experiencin a drought...hasnt been rainin for over 4 months...Yikes!
We drove inland yes...but i was pleasantly surprised when presented with the hotel we were puttin up in...the Yala Safari Game Lodge turned out to be facin the sea...more than just a lodge...the hotel almost transported me to paradise...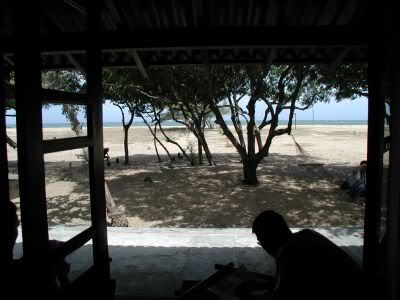 That's the view of the sandy beach and sparklin sea
from
our room...
A platform leadin out of the balconey...it reminds me of verandas...somethin you dont see alot of in Singapore...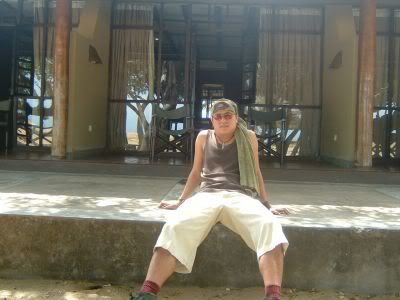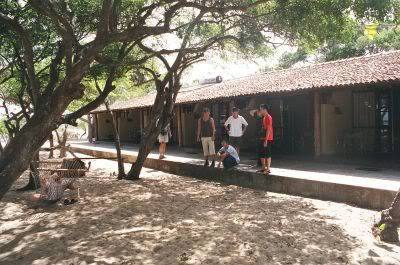 With a hammock to boot...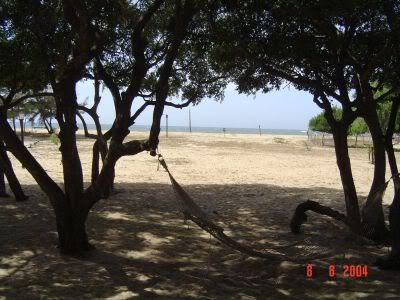 The rooms are very sparsely furnished...no TV to speak of...but the basic ammenities are all provided...i guess the management has taken the idea of wildlife a tad bit too far...*gasps* no TV??? OMFG...i want my MTV...my Star World...my HBO...god this place sucks...hehe...
A basic feature of all hotels by the sea which ive come to take for granted after the beautiful Taj...is the seaside/beachside pool...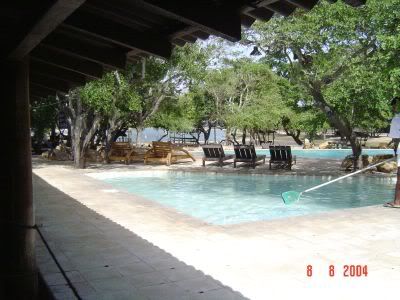 The Yala Lodge kinda brought out the 'outdoor' in you...everythin bout the hotel screams "Let's get rough and dirty...while being pampered"...it's like imaginin the jungle meetin the lagoon...meetin the sea...with rustic charms abound...
Less than a kilometer away lies the entrance to the Yala West National Park...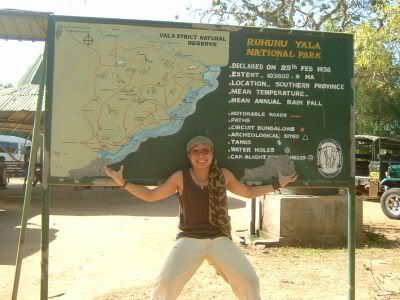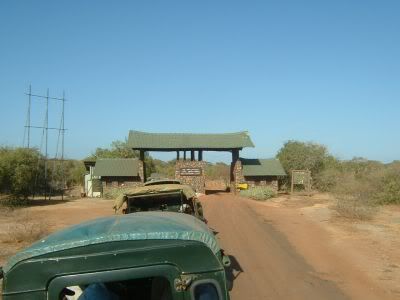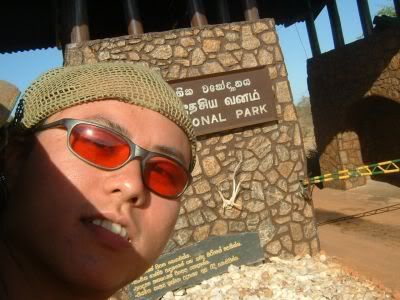 With an area of over 120,000 hectares...the park is one of the few remainin places in Sri Lanka where elephants still roam free...there's a massive amount of wildlife that congregates and convenes within the savannah...i was kinda taken aback at the huge number of tourists...as far as im concerned safaris are always at its best when its infrequently patronised...the animals are free to roam and exhibit their animal-ness (is there even such a word lol)...for me...the evidence of elephant and leopard tracks on the dusty roads mean little to me as the 4WD jeeps that ferry us around do get careless and scare all the cretins away...i would have preferred it to be less busy and more romantic...Yala National Park may have its detractors...includin me...but it's still the most animal accessible game reserve...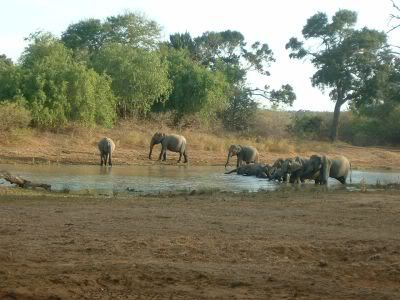 In all honesty i dont know why tourists and newpapers make such a huge deal over the park...drivin around the park for half a day is one thing...but to sit inside the jeep that's being baked alive by the 33 degrees Celsius heat...inhalin dust and dirt kicked up by roarin jeeps all around you...with absolutely no worthy animals to speak of whatsoever...is simply not worth the effort...unless you're a big fan of random
and
frequent sightings of peacocks and peahens...ya better off remainin in the Lodge itself...even the elephants takin a casual bath in the fast depletin pool barely got me battin me eyelids...
Seriously...the jeeps have scared them animals away...the Government really has to reduce the number of tourists...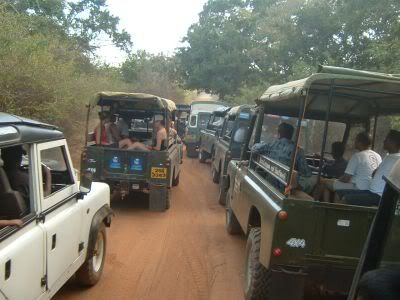 Then it happened...and suddenly...the hours we spent traversin the terrain with jack shit zero to see was well worth the effort...for we chanced upon a herd of elephants crossin the road trail...gosh...they're just 20 feet away...i could have jumped out and touched them...and risk losin my life in the process lol...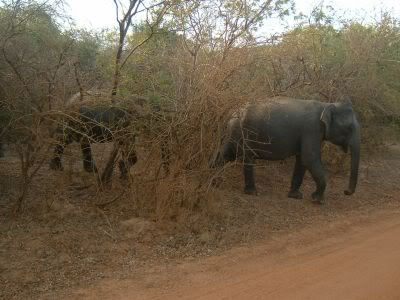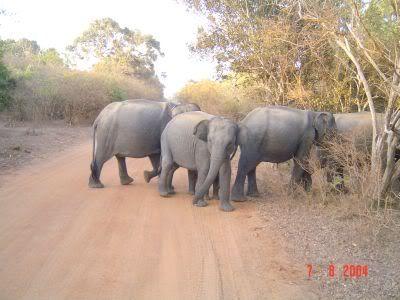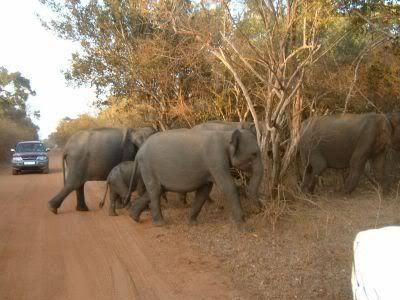 Egads! Amazin...we were one of 2 lucky jeeps to have caught such a magnificent sight...trailin behind the entourage does have its perks afterall...
As we rounded off the trip in the park...we were driven to an odd occurence...as far as common sense goes...a safari does not sit adjacent to a beautiful beach and sea with a huge rock formation juttin out of nowhere...then again ive not been to Yala West lol...coz that's exactly what lay before my very eyes...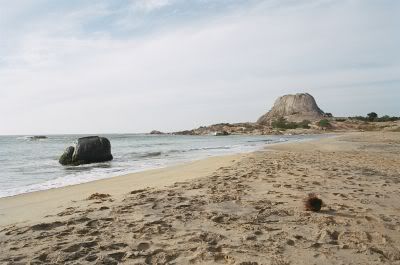 Such a huge rock of sheer beauty...scalin the rock took no effort...but observin the view from the rock took all my breath away...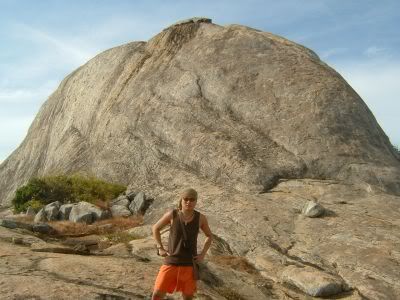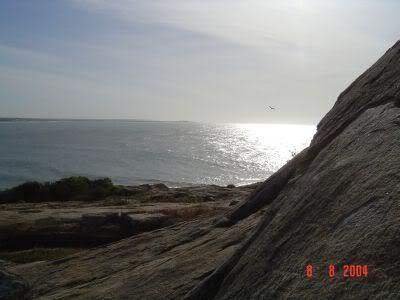 Somehow the magnitude of charm and beauty cannot be felt from these pictures...the 'aura' just isnt there...i guess sometimes a picture can only tell so much...one has to be there physically to feel the joy i felt...
Had it not been for the rock and the elephants that crossed the trail...this would have been my impression of Yala West National Park: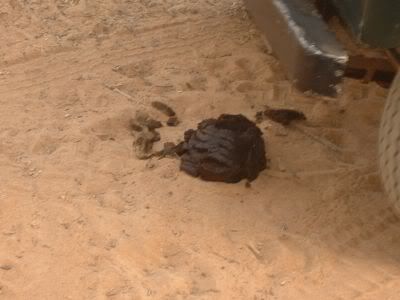 That's right...elephant turd...
You dont realise how much dirt's kicked up and settled on you until the mirror projects an image of you...ya all brown and somehow ya hair's taken on a new golden sheen...a wipe of ya face reveals this much cover that'll have
M.A.C cosmetics
and her likes scramblin for cover: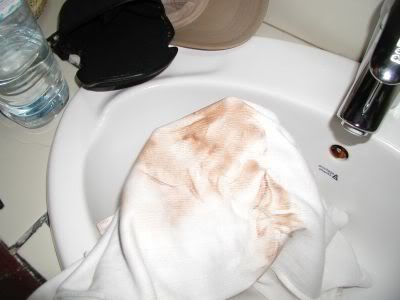 All in all...the trip to Yala was a pleasant experience...lack of animal sightings aside...i can now honestly claim to have been in a safari...no longer would i have to watch National Geographic and Discovery Channel with envious eyes...
The Yala Safari Game Lodge is available for US$90 a night for a double room. It would cost more for rental of a jeep and trained guide to bring you around the park. Breakfast inclusive. Batteries not included. LOL. (ok maybe it's not so funny anymore...)
Makin our way back East...the same road we travelled a day ago is now an expressway for to our final destination...the Dutch port of Galle. I made light work of the scenes as we whizzed by the locals...
Kids goin to school...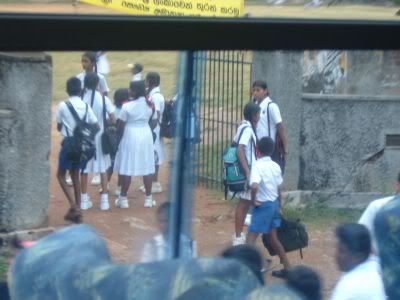 Huge deity overlookin a market and temple...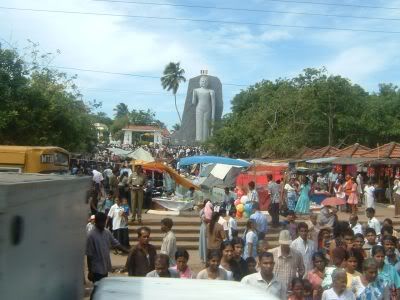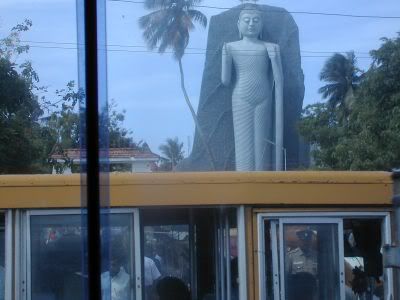 A busy bus interchange...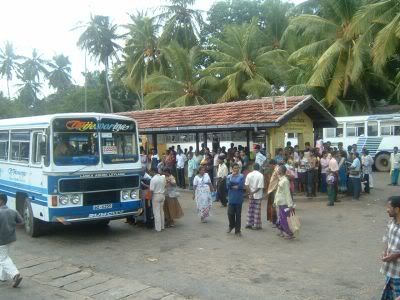 We were lucky to catch these fishermen pullin in their nets...i hope they've had a good catch...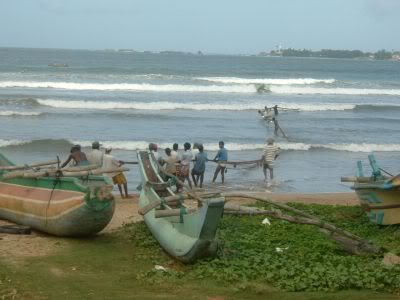 Then there these coconut trees Dudley told us about...you see...they are all connected by ropes that the locals climbed up to for the extraction of coconuts...and
traversed
within...can you imagine that? From tree to tree? At that height? Eek...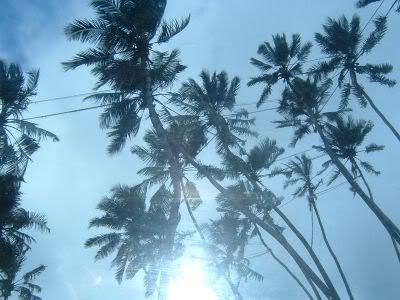 Not far from Galle...we stopped at the fishing port of Tangalla (or Tangalle) for lunch. Tangalla's situated on one of the finest and largest bays in Sri Lanka...thus it's not surprisin that the port is a popular destination for fine beach...good swimmin and divin...view from the beach of Tangalla Bay Hotel...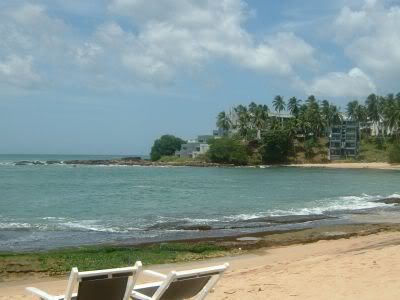 From the top of Tangalla Bay Hotel...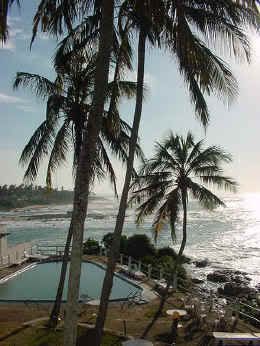 There's this funky chair that seem to be ubiquitous throughout Sri Lanka...maybe it isnt...or perhaps im just a huge ass frog in a well...but this...i call it the pregnant chair...is fuckin everywhere...swivel arm action on both side of the arm-rests...i was still wonderin what it was...when i was told that it's for restin ya legs...WTF?? Your legs?? Ok...leme try...
Before John: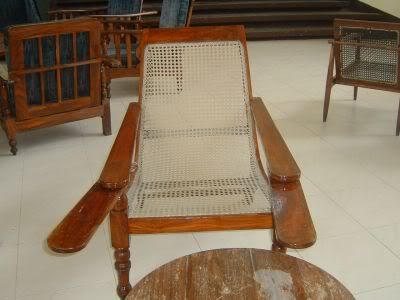 After John: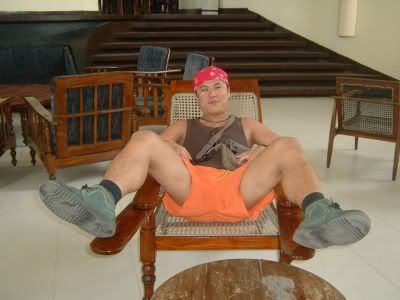 Fuck i swear...midwives and gynecologist ought to use this...smooth delivery
guaranteed
...
The locals that reside around the hotel were either hawkin their hugely overpriced seashells (they were beautiful though...) or impressin us with their coconut tree climbin skills...this bloke...is 40 years old...fuck...he climbs and has a body of a 25 year old...
Here he is at the bottom of the tree...i think his job's to pluck coconuts...i mean...if ya earnin 50 rupees (Singapore $0.80 or US$0.50) for every god damn coconut ya pluck...ya a fuckin rich man mate...NO WORRIES BOUT MONEY NO MORE!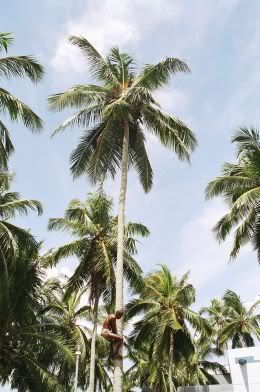 I can believe he's climbin that high just for 50 rupees...come to think of it this bloke's fuckin nuts...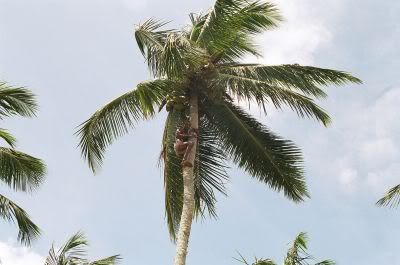 For special and personal reasons...i was firstly tickled pink...then strangely happy when we drove into and out of the southern city of Matara...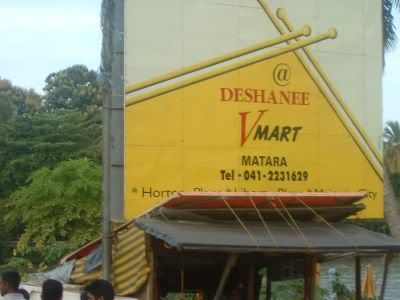 We stopped by a market where local produce was sold...as if by default...even the market has a picturesque view of the Indian Ocean...wow...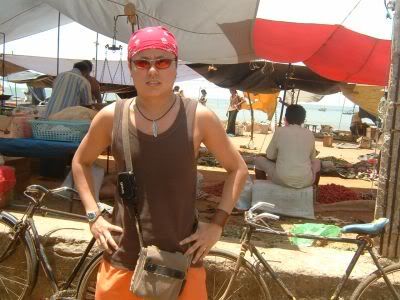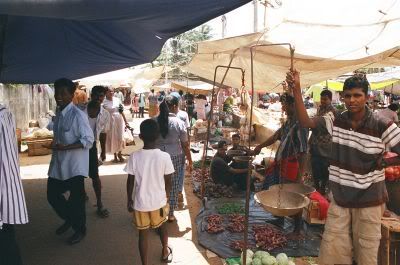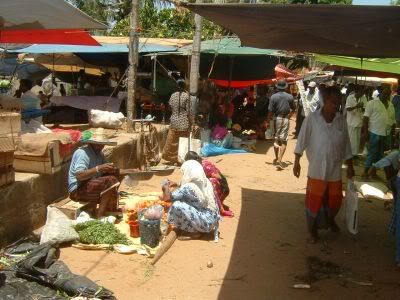 We were hassled...albeit slightly...by the locals for money...ive read enough to know not to give them anythin...for no matter how poor and pathetic they look...there's only so much you can give...last thing i need is to start a chain of events involvin kids and adults appearin out of nowhere with their hands cupped...beggin me for a couple of rupees...
The people...however...were genuinely interested in us and very friendly...i had half a mind not to take this picture...you know street people...they may be poor...but they know what to steal...and in this instance...it's my camera...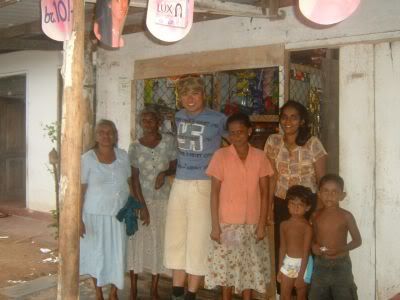 Arrivin at Galle in the late afternoon...we were ushered into the formidable lookin Lighthouse Hotel...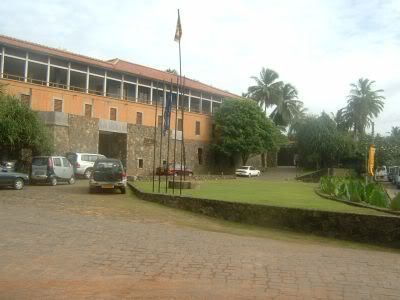 I was told by Dudley that the concept of Lighthouse was inspired by the majesty of the old Dutch Fort that's situated just a short drive away...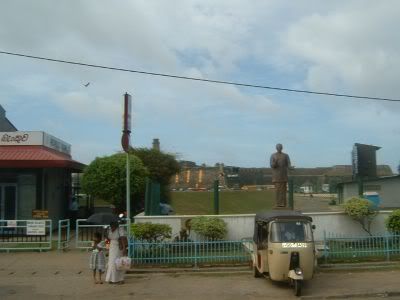 ...Did i mention the Lighthouse is ably designed by
Geoffery Bawa
...i guess it's one thing to have a great lookin hotel...but it's not everyday your hotel's designed by one of Asia' most sterlin and reputable designers...i knew i was in for a treat...i believe i would save my breath and just let the followin pictures fill you in...
From the sculpted metalwork balustrade that circles the spiral staircase upon enterin the lobby...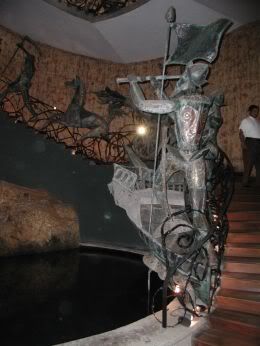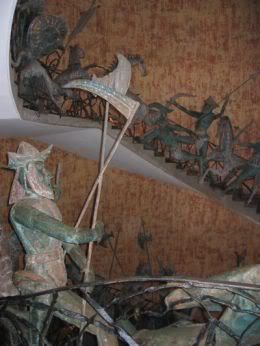 ...to the room that's fit for a King to live in...i mean...cmon...a walk-in wardrobe and bath area? Spoil me already...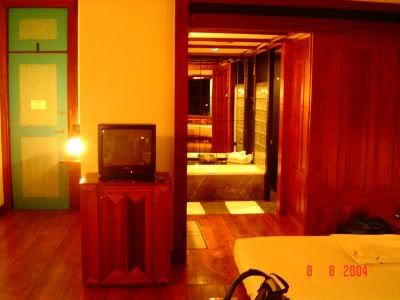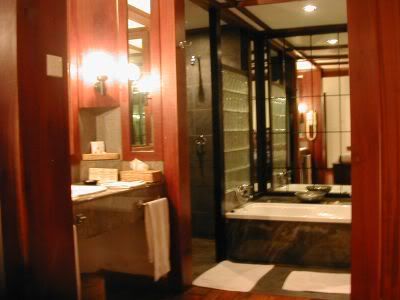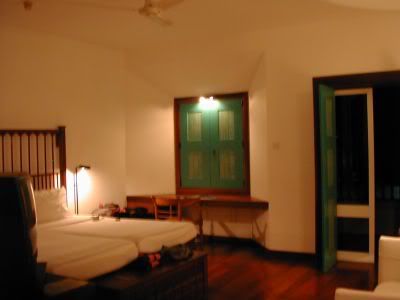 ...the rooms have a splendid view of...just bout everythin one wants when he dies 50 years from now...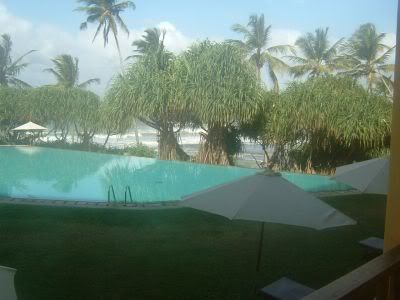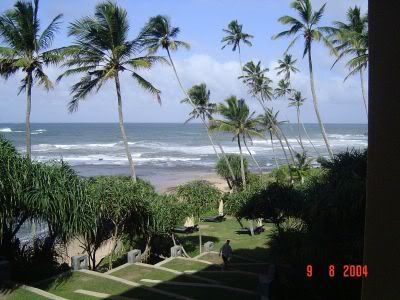 ...with paths that lead to the beach and pool...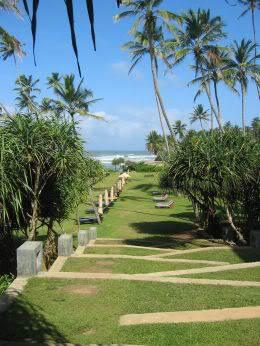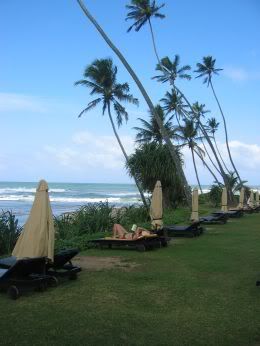 ...to the magnificent view of the ocean from the restaurant...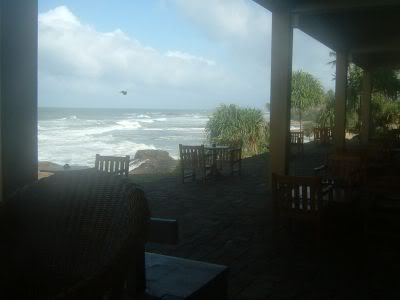 ...which ultimately brings me to the untamed beauty of sunset from the Lighthouse...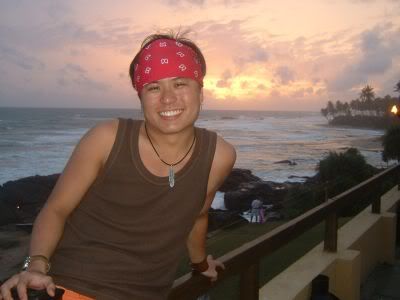 Gosh!! Too many emotions!! Too many butterflies in my stomach!! Bring me back there already...
Then again...you can bring the Sri Lanka out of a posh hotel...but you cant bring the hotel out of Sri Lanka...on 2 occassions we were reminded that we're...afterall...
still
in Sri Lanka...where the tap water is unfit for drinkin and the electricity...well...just dies on you...not once...but
twice
did the electricity fail while we were dippin in the pool at night...the hotel must have an back up power plant of some sort in the area...for the electricity went back up almost immediately...i barely had time to reach out to the nearest innocent woman and *voice trails off* LOL...
Leavin Lighthouse the followin afternoon was akin to takin a hammer out of a Dwarf's hand...i had absolutely fallen in love with the place...the hotel is listed in 2004's
Small Luxury Hotels Of The World
and is highly rated locally as one of the best in the business...the hotel has a reputation for being able to deliver whatever you ask for...the word-of-mouth reputation is unquestionably the most sought after prize any F&B outlet could crave for...and the Lighthouse thoroughly deserves the reputation...
The Lighthouse Hotel, Galle is available for US$218 a night for a double room. Breakfast inclusive. Batteries not included. LOL. (ok it really isnt funny...but fuck it...lame jokes always gets to me...)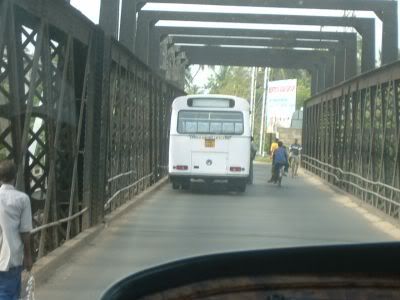 Drivin back to Colombo Airport...i was intrigued at the way locals drive...i must say...Sri Lankans are either the worse drivers in the world...or the best...or at least right up there with the worse/best...i thought ive seen the worse...or is it the best...in Singaporeans...until you put a Singaporean along the Sri Lankan roads...they'll always think that a horn is just a signal to fuckin move when the light turns green...coz over here...nary a minute goes by without our trusty coach driver honkin his fuckin ass off at just bout every vehicle...i think horns here are a sign of friendship...whiz past a cyclist that was dangerously close to the coach? Horn...narrowly avoided a vehicle that was comin towards OUR direction? Horn...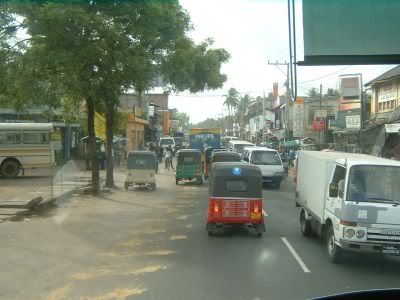 I cant believe this...a traffic light!! That's not in workin condition!! LOL...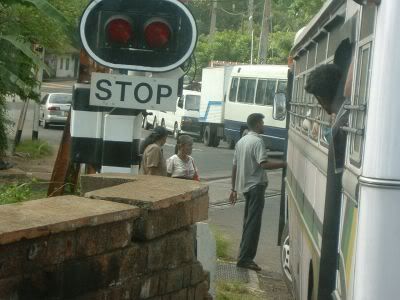 See what i mean...our coach is in the OTHER lane...and the driver isnt the least bit flustered...wtf...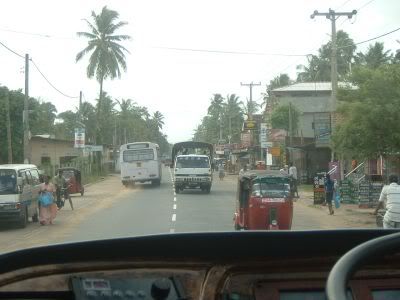 More evidence of superb drivin skills...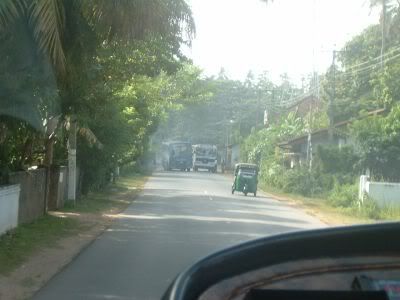 My trip to Sri Lanka was a multitude of emotions that varied from emotional highs to even greater emotional highs...simply said i could not...have not...and probably will not be able to find the appropriate words to describe the sheer beauty of Sri Lanka...look up a thesaurus for the word 'resplendent' and that's how i would've described the journey...true...ive not immersed fully and acclimitised myself with the authentic Sri Lanka way of life...that is...to rough it out...skip the fashionista hotels and live on the cheap...but how else to experience the charm of the island without leavin with a distinctively good impression? Everythin...from the hotels...to the friendly people...to the bountiful sights...sounds and smells...was just about perfectly boiled to the right temperature...i could not have been more convinced by the country even had i not visited the sheer class of the Lighthouse...the rustic but able Yala Lodge...the beautiful Taj Exotica...or the modern Colombo Plaza...the people here...eons away from the earnin class of Singaporeans...hold so much more genuine friendliness and warmth from the cold and fake Singaporeans ive grown to become tolerant of...there're some sticky points...such as the exhorbitant rip-off Taj Exotica made for a 5 minute overseas phonecall i made to Melbourne (Singapore $35??? Cmon...who ya kiddin...) or the heart-thumpin drivin of the locals that got me sittin on the edge of my seat...
Then again...if all else fails...there's always the basic reason why i fell in love with this country...for this reason alone...i'll visit Sri Lanka again...fuck i'll recommend it to everyone out there...give the usual hang outs a miss (as stated in my 2nd paragraph) and do give this island a chance...
The beautiful and unspoilt beaches...
Subscribe to Posts [Atom]