Monday, May 3
Rise and Fall
I shed a tear or two while showerin; i had headed straight for the bathroom after watchin Leeds' relegation from the English Premier League.
Lettin the water drape my body was a temporary relief...for my thoughts were only on the club...and the emotions that must be goin through the general staff and players right now...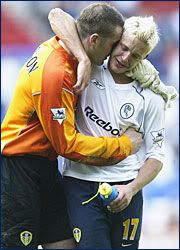 Im not in much of a mood to talk bout football right now...but loggin onto
Soccernet
this mornin was an image that would always be plastered in my memory...Leeds' crown jewels...Paul Robinson consoling life-long Leeds fan Alan Smith...this image will be played over and over in the future...Leeds will never have it this good again...
You have brought passion into my life...
You have shown how life is to be played...
You have shared the happiest hours...
You have cried my darkest days...
The terraces of Elland Road are now empty...
The pride of Yorkshire is in tatters...
$20million TV rights is somethin of a memory...
Priceless is my affinity for you...
We will be back...
Subscribe to Posts [Atom]