Saturday, March 4
Let's Talk Tasmania Day 4 - Grapes Are Meant To Be Drunk, Not Eaten



The Misfit

We crashed at Mark's humble abode for the night...i had to put up with Samantha's incessant snorin and mid-sleep farts (ok! Kiddin!)...

Robert and Debra picked us up in the late mornin for a tour of Tasmania's popular
Tamar Valley Wine Route
...

21 vineyards are sprinkled generously around Tamar Valley (pronounced tay-maHr...i had asked if it was tah-maHr or ta-maRe...was wrong on both counts)...Samantha had promised Debra to bring her lovely mother around the estates as a birthday present (belated undoubtedly)...as a guest that week...i couldnt have thought of a better thing to do...samplin wine in a pretty scenery? Im in...

Of course...my exposure to wine is restricted to just the sweet dessert wines...Asians simply do not have a wine culture...spirits and to a lesser extent beer...are more our cuppa tea...i do however have developed a particular fondness for the semi-sweet Riesling to the sweet dessert wines that Australia are famous for...2 vineyards i buy consistently from are the
Brown Brothers
(their
Moscato
and
Spatlese Lexia
are simply superb) and
Monichino
(i discovered their winery on my trips to Echuca last year...their Rosso Dolce is world class dessert)...

Of coz that's not to say my palate hasnt developed a taste for the more acidy natural whites and reds...just that wine tastin and drinkin is somethin that takes years to develop...im glad im even drinkin wine at all to begin with!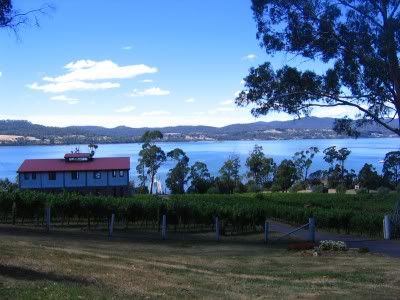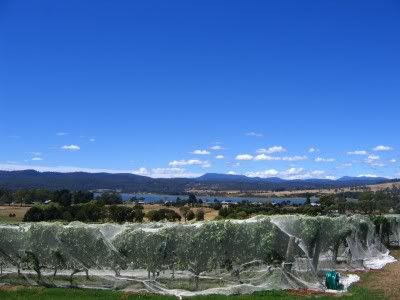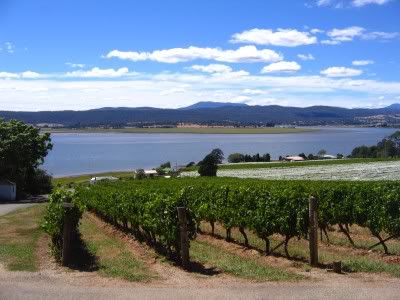 Im considerin a change in profession...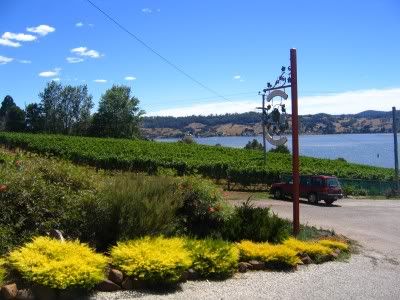 ...you see with views like that (while growin grapes mind you!)...why work anywhere else?
We stopped for lunch at the historic Rosevears Waterfront Tavern...interestin point to note...the only major buildin in residential Rosevears is the tavern itself...one major buildin in a small town...that's cute...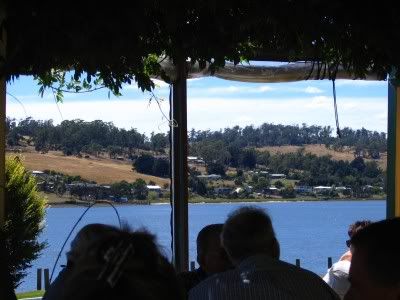 We ate...and viewed...and ate...and viewed
Perhaps i havnt been visitin enough vineyards...but arent Tasmania's vineyards simply drenched with personality? Almost every single vineyard we stopped at was reekin with the owner's personality...be it quirky charm...artistic flair or just zany playthings...as if to sell that idea even further...the
Artisan Gallery and Wine Center
sits in the middle of nowhere...flanked by vineyards several kilometers down the road...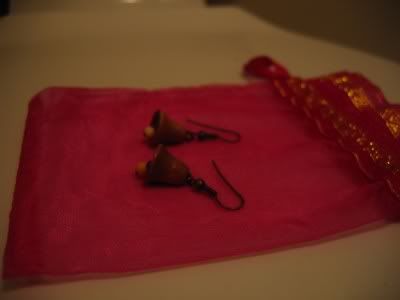 From the Artisan Gallery...i bought this pair of funky bell-shapped earrings for micheLe...
Marions Vineyard
is just a kaleidoscope of colors...not content with just sellin their wine in normal everyday bottles...the owner had a deluge of comic labels drawn on the bottles...the aptly named
Giggleskins
is not only a wonderful sales tactic...the brazen marketin of the wine also gives the artist a chance to promote his art...very very cool...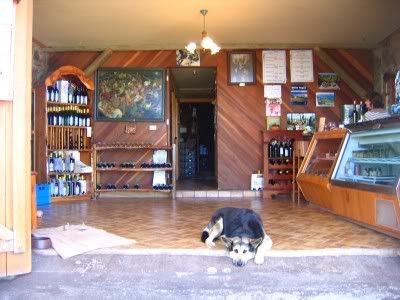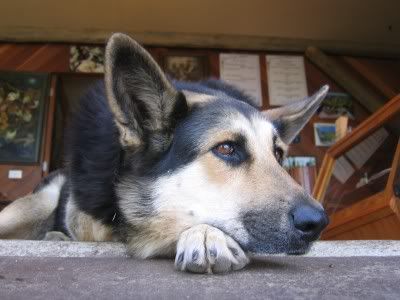 Bloody excited arent ya!?
The
Iron Pot Bay Vineyard
is memorable as not only is it screamin with personality...it had Debra in stiches for the remainin duration of my trip...she never fails to bring it up every other day...

The entrance to the cellar door is decorated with odd contraptions that captivated us for much of 5 minutes...a little mechanical ball bearin 'slide' greets us with a large 'Push Me' button emblazoned next to it...upon pushin it the ball bearings roll down to the bottom in zig-zag fashion and are mechanically picked up by a conveyor belt...and all this while a little gadget afixed in the ceilin blows out little bubbles...so charmin...

Of course there's the spinnin merry go round with little plastic fish and birds attached to it and the 'Press the Shark's Teeth' toy that had Debra (who's real age i now seriously question haha) in peals of laughter...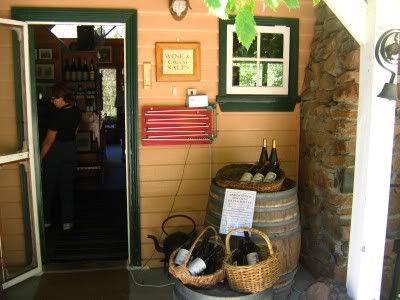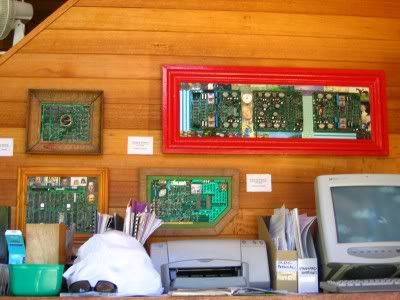 Art goes avantgarde. Computer components are intertwined with everyday pop culture references.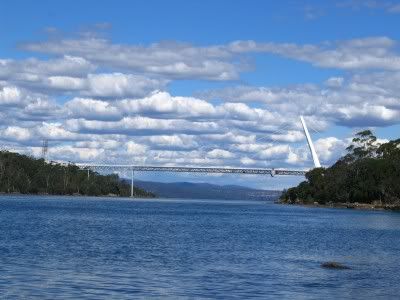 From the banks of the Tamar Valley...Robert found this amazin view for a shot of Batman bridge...
Subscribe to Posts [Atom]