Thursday, March 2
Let's Talk Tasmania Day 3 - Fishing In The Bay



The Misfit

We went fishin on Saturday mornin...we had driven from Launceston to
Swansea
(population 600) the evenin before...Robert and Debra...being the kind accomodatin parents they are...have a pretty little summer house by the beach...Samantha's arrival triggered some sort of family getaway...and i was the very willing accomplice...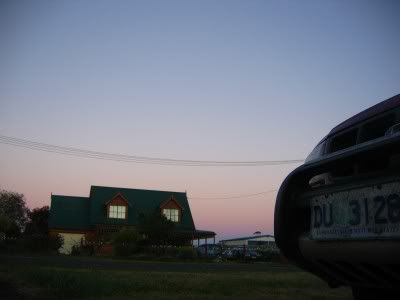 6.15am. Sunrise in Swansea.
Located 134km from Hobart and 133km from Launceston...Swansea sits on the Great Oyster Bay and gazes across at the rugged mountains of the
Freycinet National Park
...it boasts a very substantial number of historic homes and buildings which gives Swansea a distinctive charm...fishy smell notwithstandin...

Before Saturday...the only thing i knew about fishin was the fabulous meat i absolutely loved eatin...before Saturday i thought that fishin is an absolute dull sport that required a strong dose of patience and a good book...before Saturday i believed the only way to lure fish was to use live worms...

No one told me Saturday came along...

We went fishin in the Great Oyster Bay...it's a hot spot for good fishin...im not too clued in on what kind of fish is abundant in the waters...but i do know
flatheads
are absolutely teemin in the area...Robert was very patient with me...teachin and guidin me...it wasnt too tedious at all...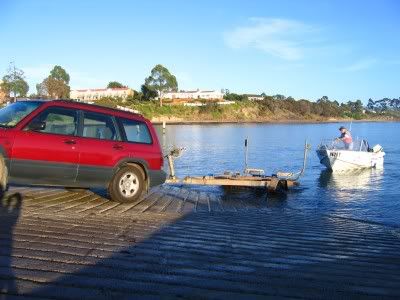 So that's how they get boats into the water!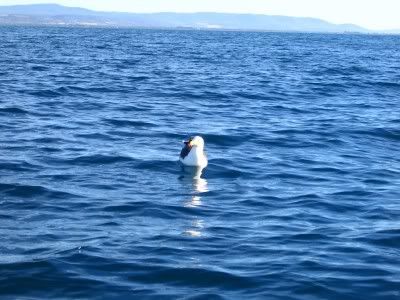 A Pacific gull restin on the slow movin waters.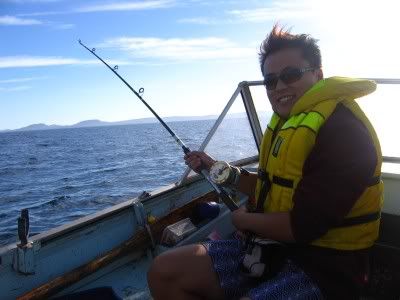 It's official. I look stupid in a large yellow vest.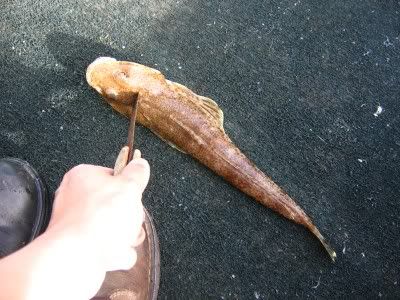 Flatheads have notoriously hard skin. To effectively kill them, a lot of effot is needed to pierce their heads with a knife.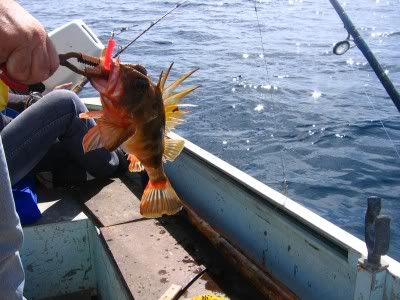 This beautiful fish took my bait. Ive forgotten what it's called. Robert released the fish as 'the meat is rather mushy' he claimed.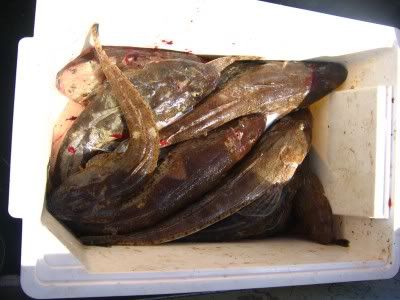 We caught 27 flatheads (and throwin out 3 times as much as they were too small) in total. Australian fishin guidelines stipulates only 40 flatheads are to be caught at any one time.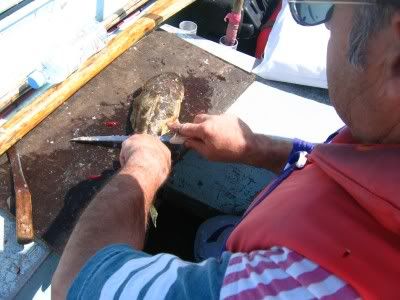 Robert, ever the gentleman, proceeds to flay the flatheads.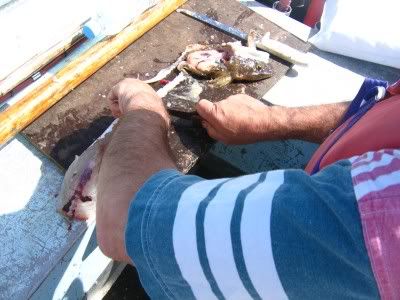 What a bloodbath! What a mess! No guts, no glory!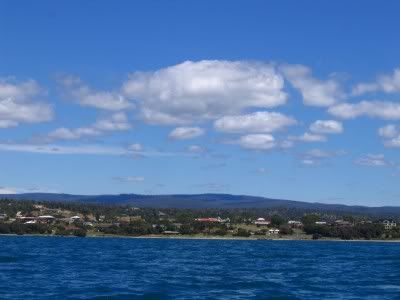 The Great Oyster Bay coastline. Pretty.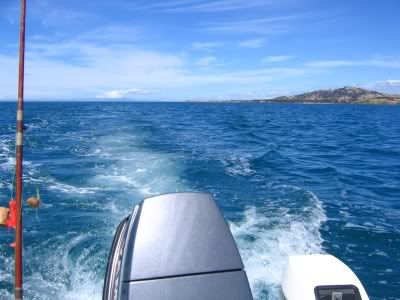 Unfortunately, the engine that brought us out to the water (50HP) died on us on our way back. We were stuck with a sorry excuse of a backup engine (6HP). A trip that takes 10 minutes took us 45 minutes. I was exhausted when we got back on shore.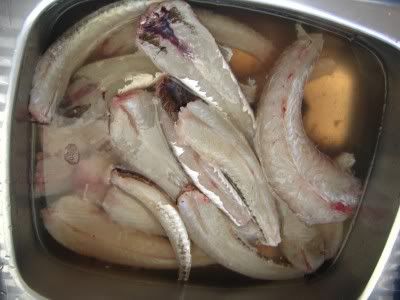 Fresh fish! Straight from the sea!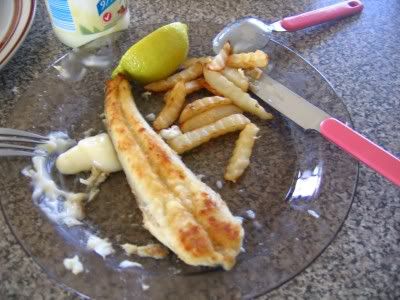 Sexy Fish n Chips. Or as Samantha likes to call it - Fosh n Chops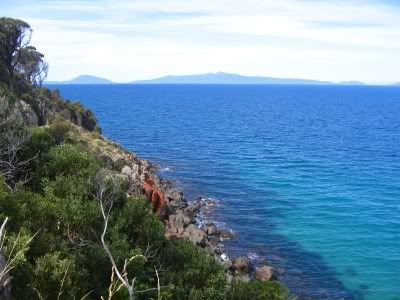 We spent the afternoon drivin around Swansea's coastline. Rugged. Beautiful.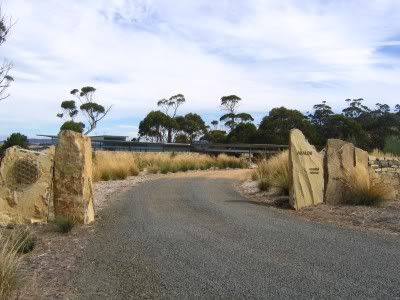 Overlooking the Freycinet Peninsula and the Great Oyster Bay sits
Avalon
, a house that's designed by award-winnin Australia designer Craig Rosevears. Click on the link to truly fathom the beauty of the house and the breathtakin views.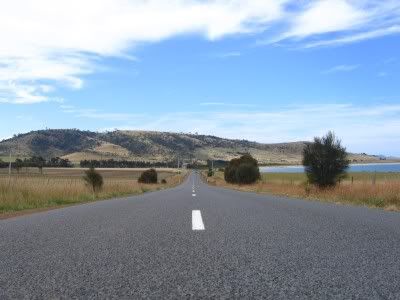 The rumors are true - there's no traffic in Tasmania.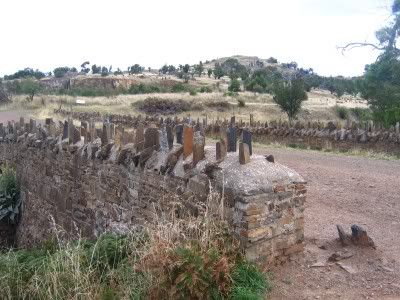 Built in 1843...the Spiky Bridge was built by convicts...it was constructed from fieldstones which were laid without mortar or cement...it has been claimed that the spikes were designed to prevent cattle falling over the sides. Go figure.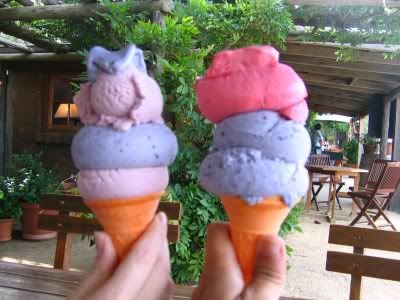 Samantha and i made a detour to
Kate's Berry Farm
...believe it or not the ice cream cones you see are SMALL...we paid A$4 for each cone and could barely finish it...3.5 scoops for a SMALL cone? I wonder how many scoops a LARGE cone has. Oh and the ice cream. Smooth and naturally sweet...best ice cream in the world. Period.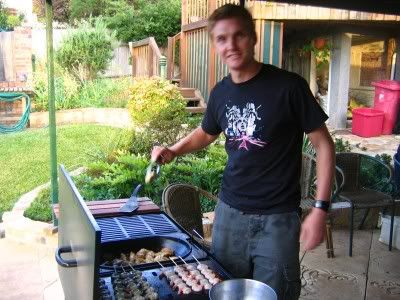 That evenin the family headed back to Hagley...Samantha and i swung by Launceston for a barbie at Mark 'Psycho girls need not apply' Lockwood's...haha i never get tired of sayin that...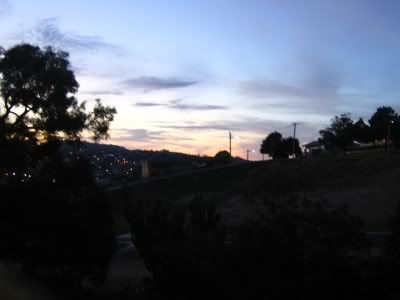 Sunset in Launceston. I had meant to take the picture earlier...but the merry makin and eatin distracted me...stupid barbie...pity the lack of vibrant colors...
Subscribe to Posts [Atom]