Friday, March 3
Krispy Kreme Arrives!
The Beautiful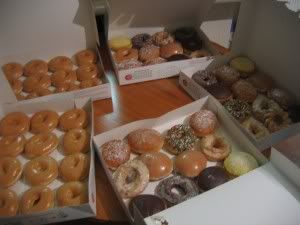 5 boxes of heaven from my Sydney trip in 2005
Finally...after years of waitin and months of exasperation on my part...Melbourne's
worst-kept secret
is revealed...

I'll be willin many of my girlfriends to try the donuts...

It still amazes me how after this many years...many Melburnians are still oblivious to the world's best donuts...please stop mention
Donut King
in the same breath as Krispy Kreme...it's not only an insult to yourself...it's an insult to donuts...
Subscribe to Posts [Atom]