Monday, April 4
Delta's Lingerie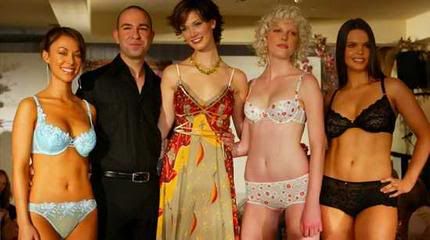 Delta Goodrem (middle) with designer Bruno Schiavi and models at the launch of Delta by anabella in Sydney.
After a 5 months wait...Australia's favorite songstress-daughter
Delta Goodrem
has launched her own line of lingerie...the epnoymous and apt Delta...

She follows closely in the footsteps of her more famous Australian starlets...Kylie Minogue and Elle MacPherson...who have both launched their own range of lingerie...
For someone who seems to do no wrong and havin the Aussie media eatin out of her palms...I wonder though...with models like that...how da fuck is she gona sell? All 3 models are uglier than the crusted booger i extract from my nose...Strange thing though...Delta's lingerie will only be sold in K-Mart...crikeys...what does that say bout the demographic? Agin grannies...mid-40s women experiencin a mid-life crises...desperate girlfriends with nothin to buy for their sorority sisters...

So not cool Delta...surely you dont want all Aussie women to look like ya...ya main squeeze Brian wouldnt like that...

Subscribe to Posts [Atom]