Thursday, March 24
Hands up if you wana see pictures! Part 1.



If the quirkier side of Melbourne was detailed in my holiday post back in
July
...my new lease of life here shall be detailed through beauty and of coz...the usual self-deprecatory humor that you've all grown to love and hate...

So here i am...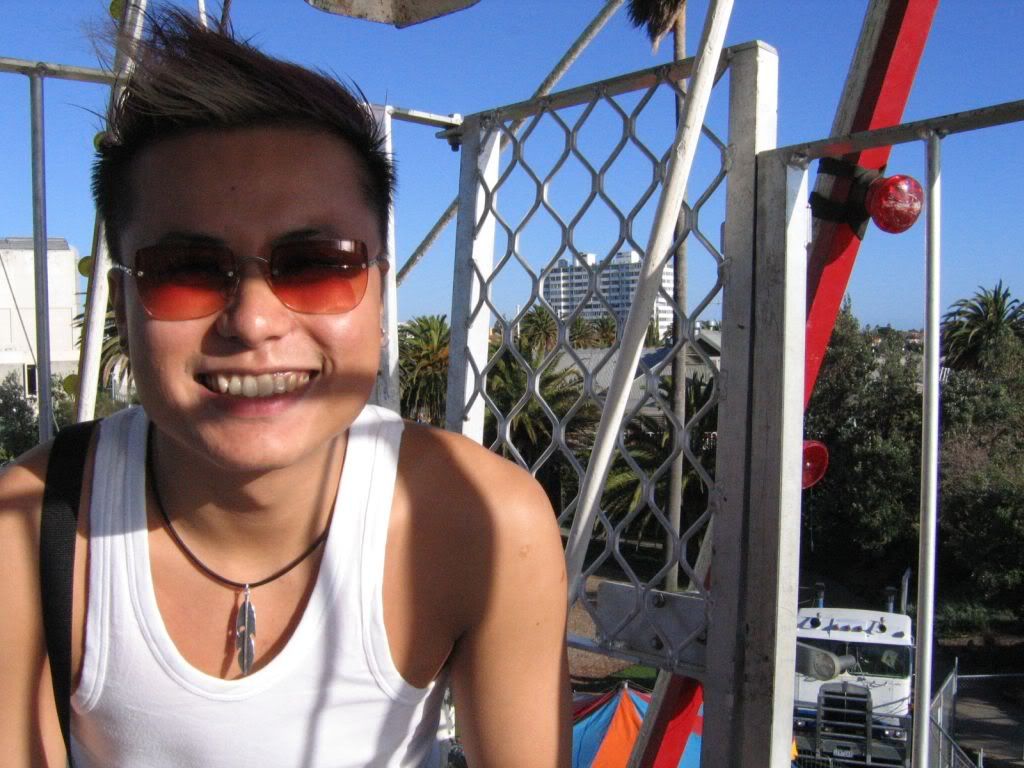 ...perched in mid air...checkin out the scenery that is the
St. Kilda's Festival
...im in a giant ferris wheel...freezin my tits off whenever the breeze...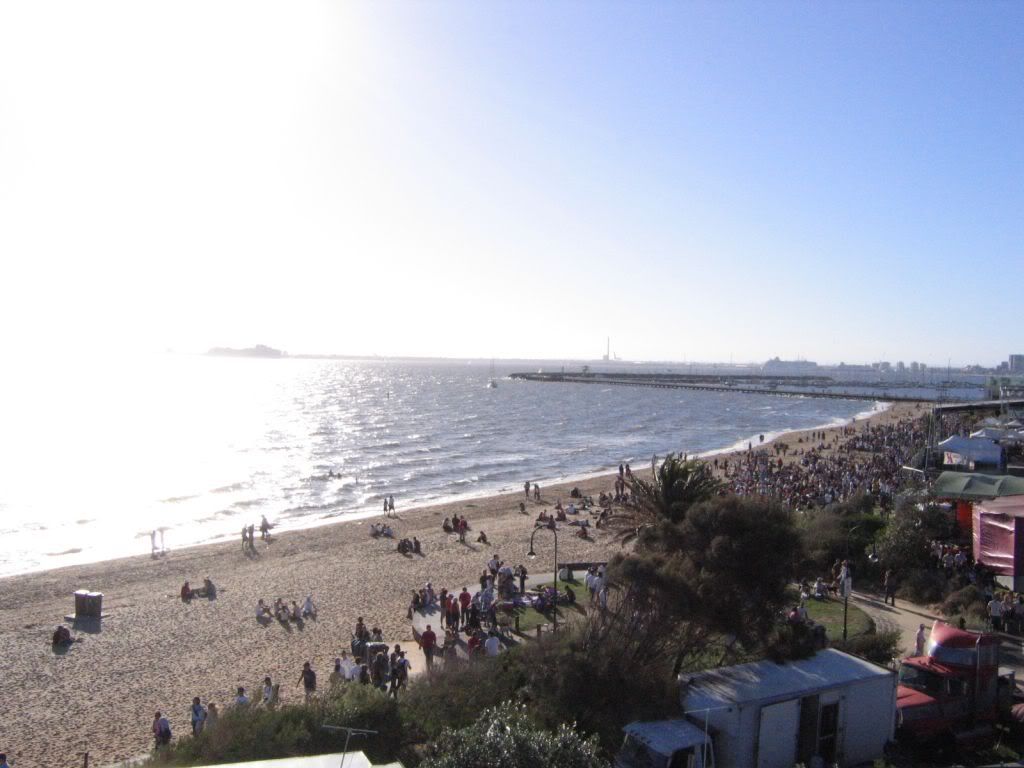 does its thing...coz im sittin right along the fuckin coast! The view from the ferris is great though...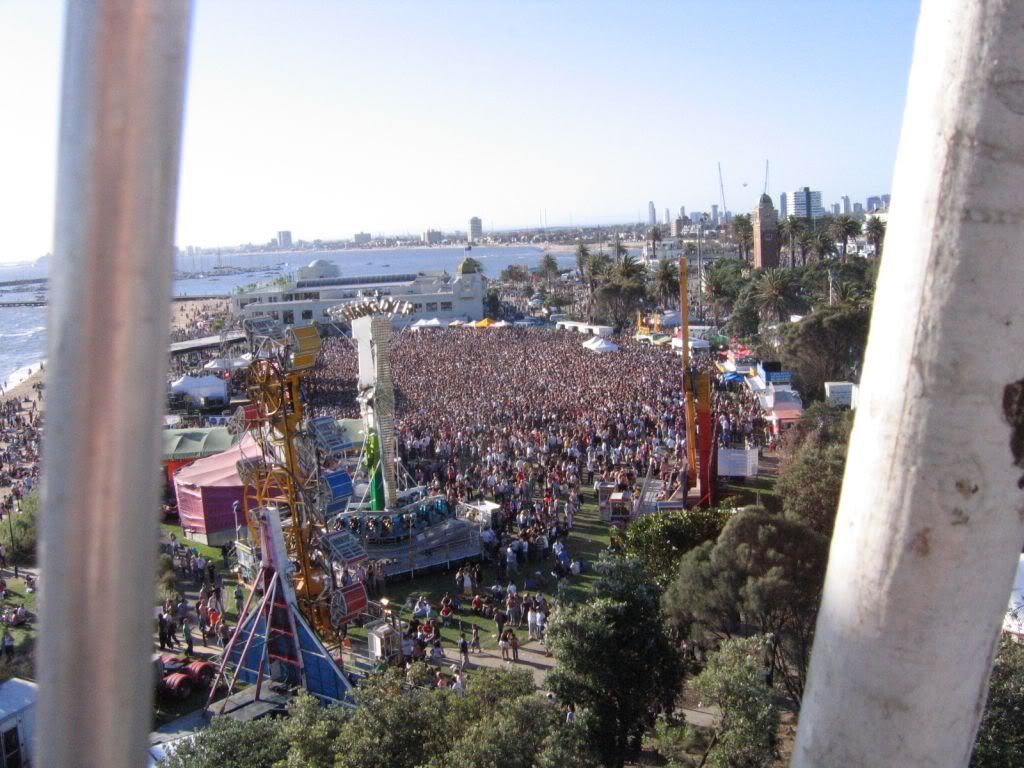 That's a surefire way to relieve the
ailin water system
in Victoria due to the large number of Victorians i reckon...jusst drop a fuckin bomb in there and kill all Melburnians!

What a festival...there're stunt bikers...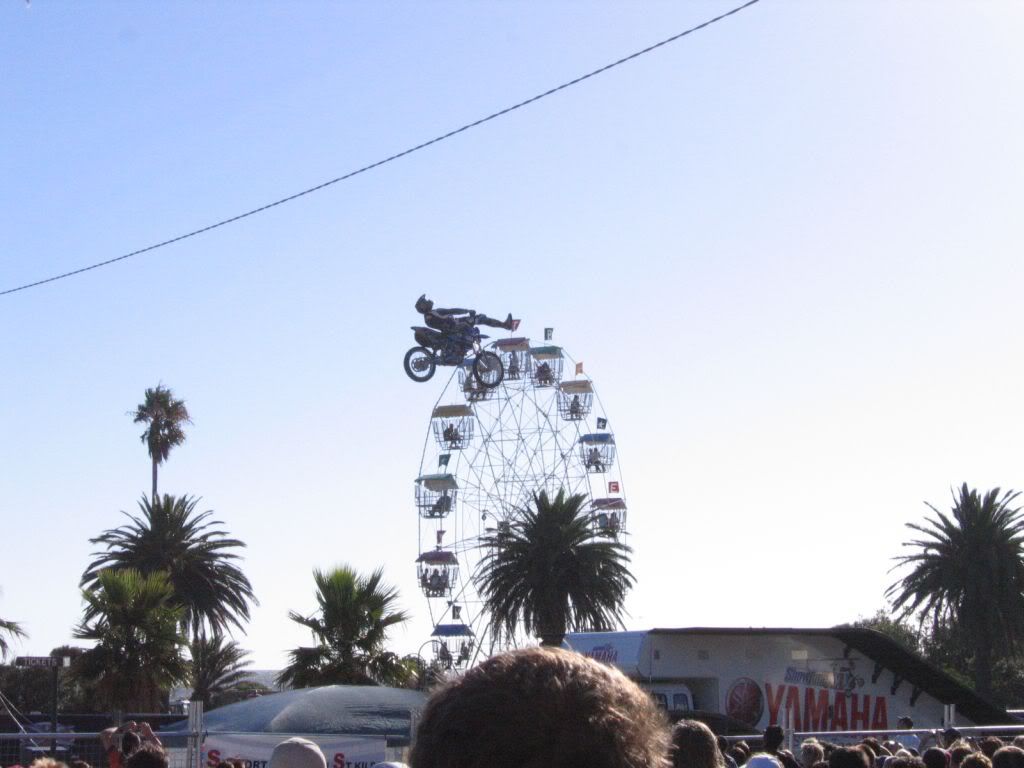 ...who flip better than flapjacks...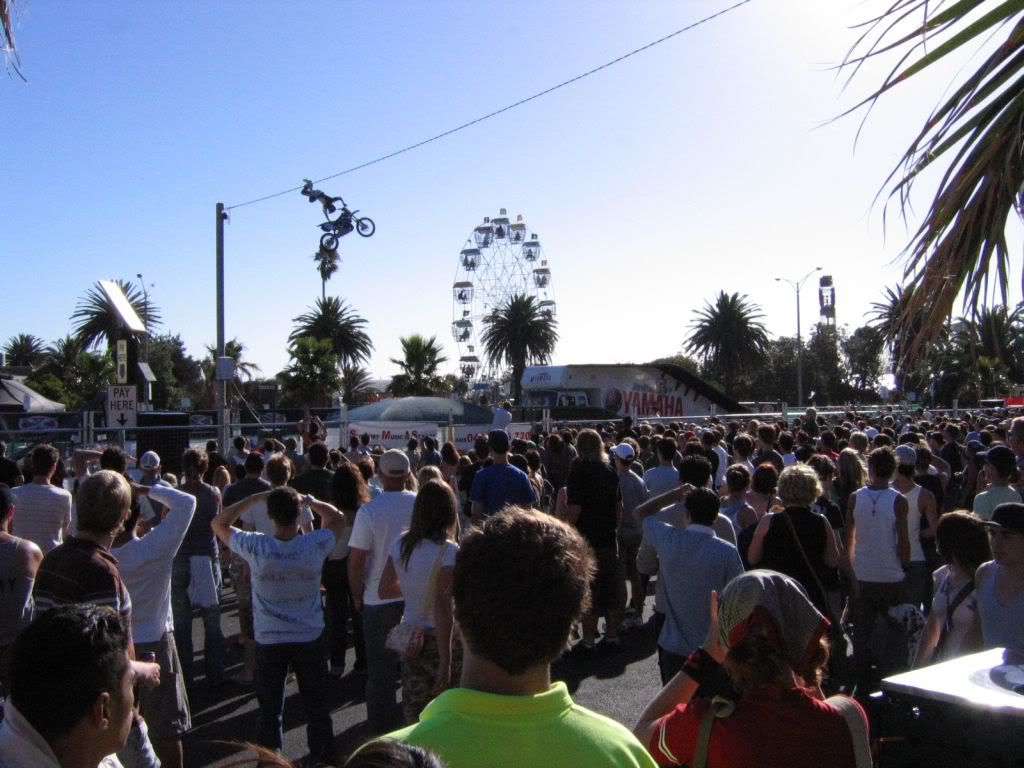 400,000 people...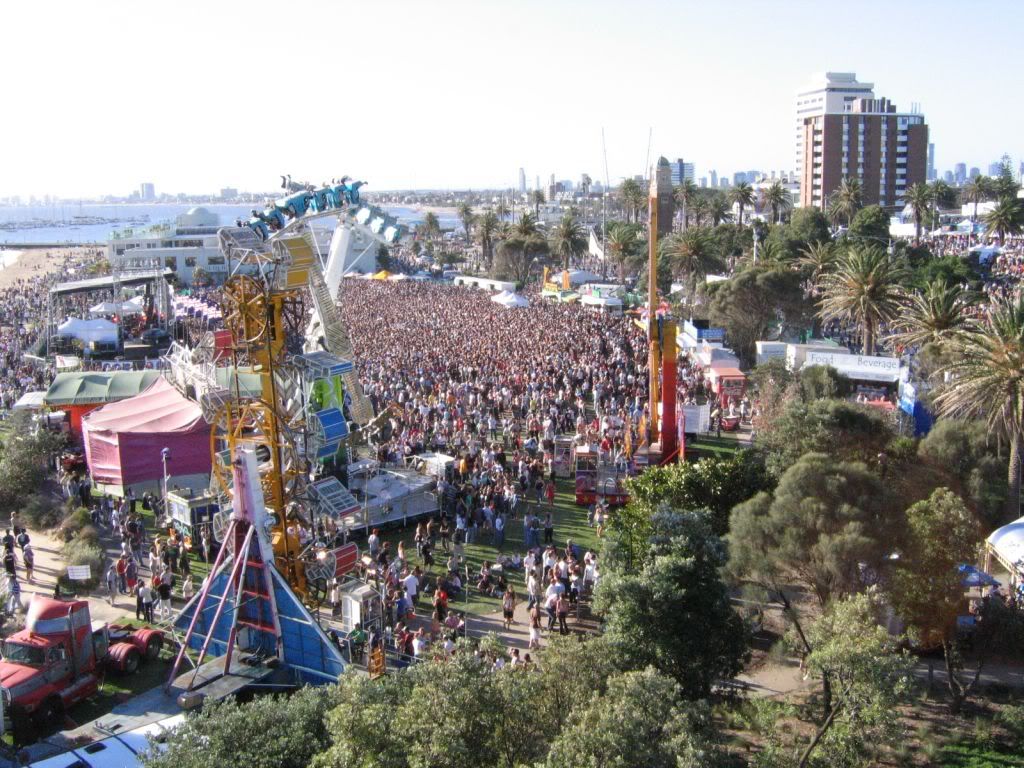 ...prancin around on a hot summer day...crikeys...imagine a stampede from this group of people...*shudders*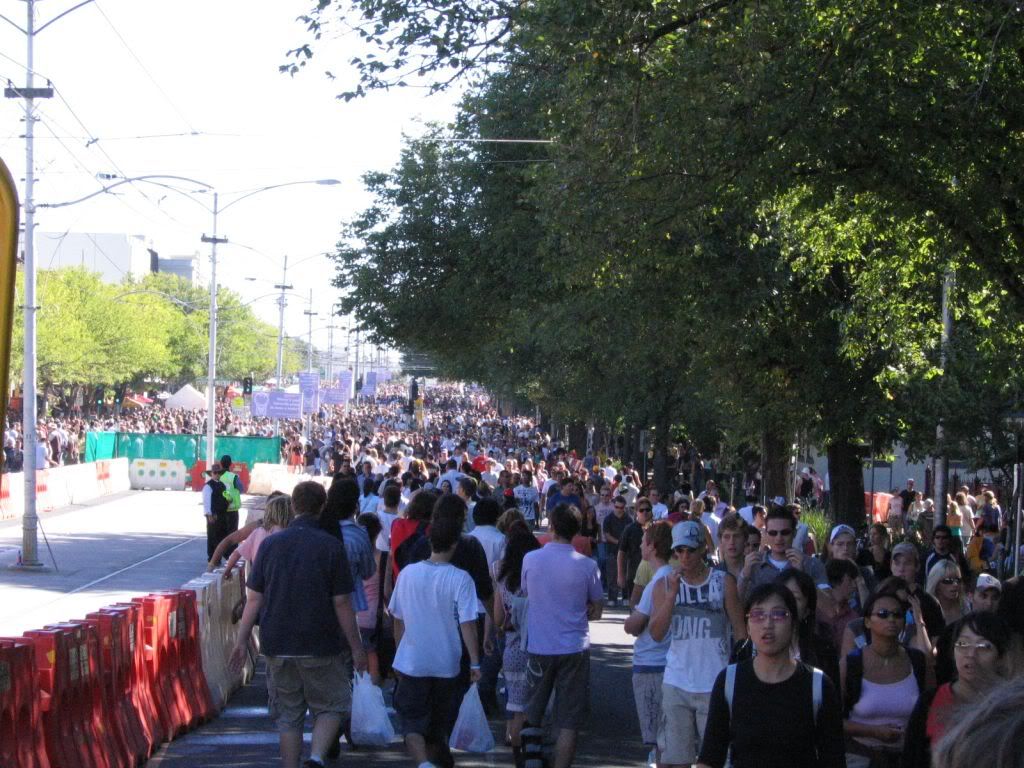 But...why worry bout a stampede when we've the reliable Melbourne train system to shuttle our sorry asses around?
Yeah...reliable it sure is...trains that arrive once every 30 minutes on weekend nights...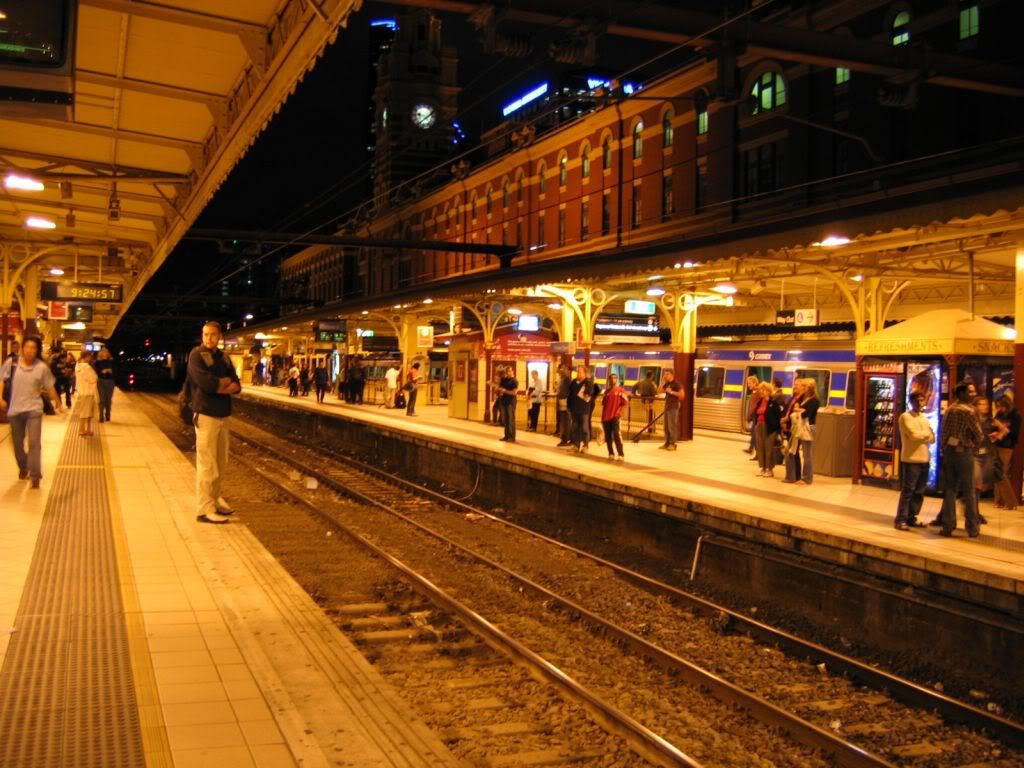 Fiddlin around with my camera's functions sure is fun...i decide to pose for a shot...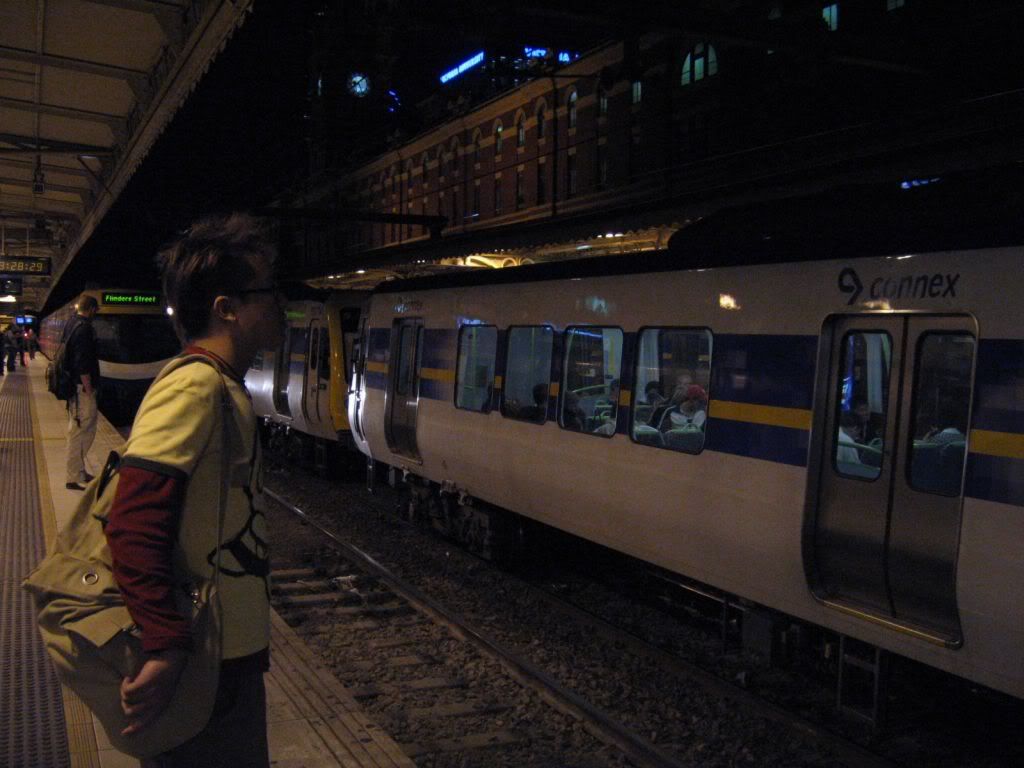 Speakin of transport system...a fuckin Aussie thought he could get the better of our designated parkin lot in the basement of the apartment...in a fit of fury...micheLe and i wrote a note with a spellin error...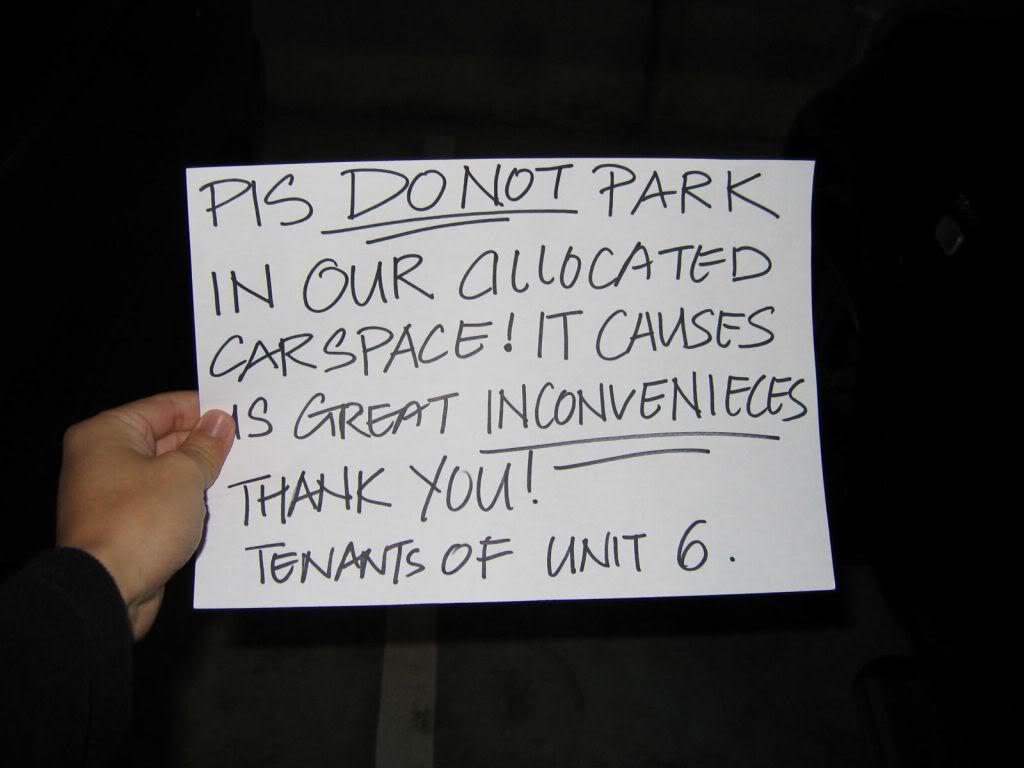 ...and stuck it...along with a similar note...onto his car...




How dare him...what audacity! I mean...we pay for the parkin lot too! Your car dont impress me too much...i come from a country where cars
cost an arm and a leg
...if us Singaporeans had our way...anyone of us could buy 2-3 coupes in Melbourne easy...so quit whingin and park somewhere else will ya?
Then there was the balloon flight that micheLe had planned for my 26th birthday...amazing...my 2nd day in Melbourne...and i had the chance to fly over the Melbourne country...strange though...micheLe had her eyes half closed in this picture...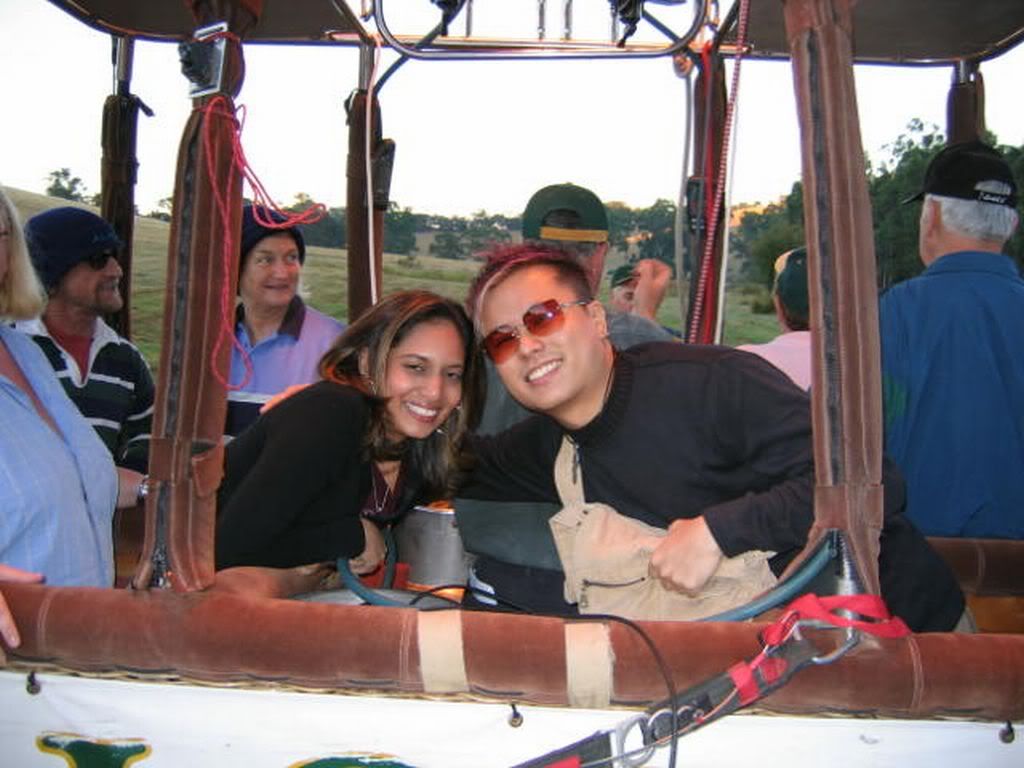 Flyin in a balloon's a 'team' effort...everyone involved...from the guide/balloon operator to us passengers...had a part to play in settin up...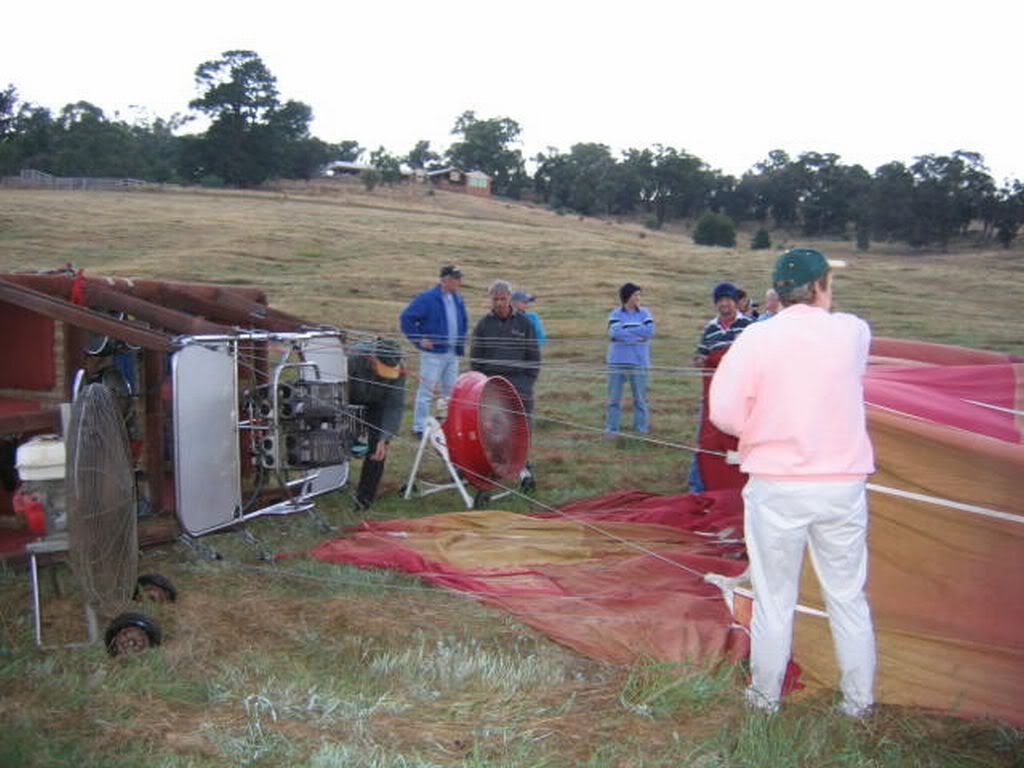 Have i mentioned the heat from the balloon really gets to you? But when the temperature's a chilly 12-15 degrees at 7 in the mornin...some heat is better than no heat...note the intensity of the flame..golly...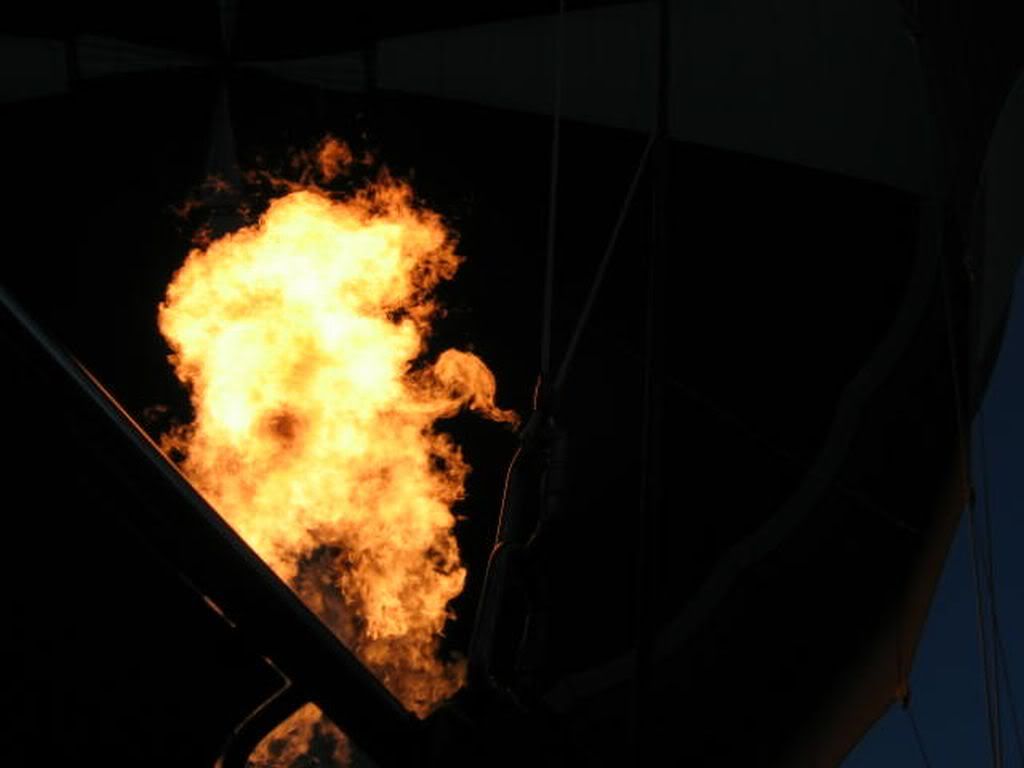 The balloon takes a wee bit to fill up with air...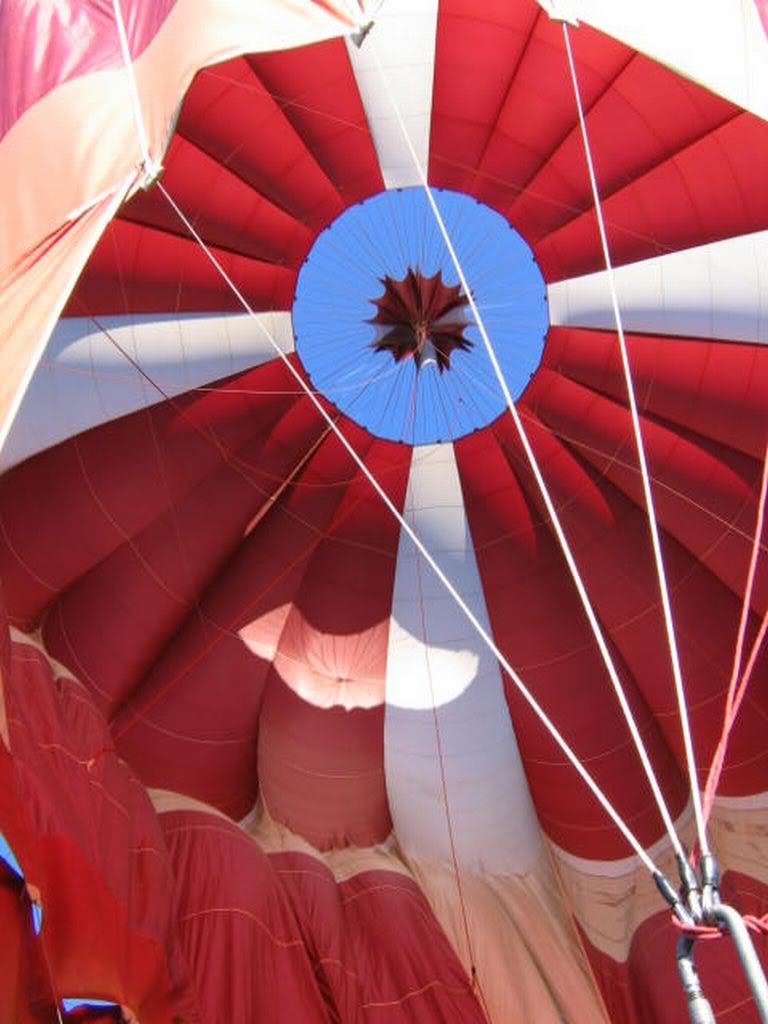 But the wait is well worth! The view was fuckin amazin...we flew up just in time to watch the sun rise...imagine that! Watchin the sun rise from a balloon! micheLe clearly appreciates it...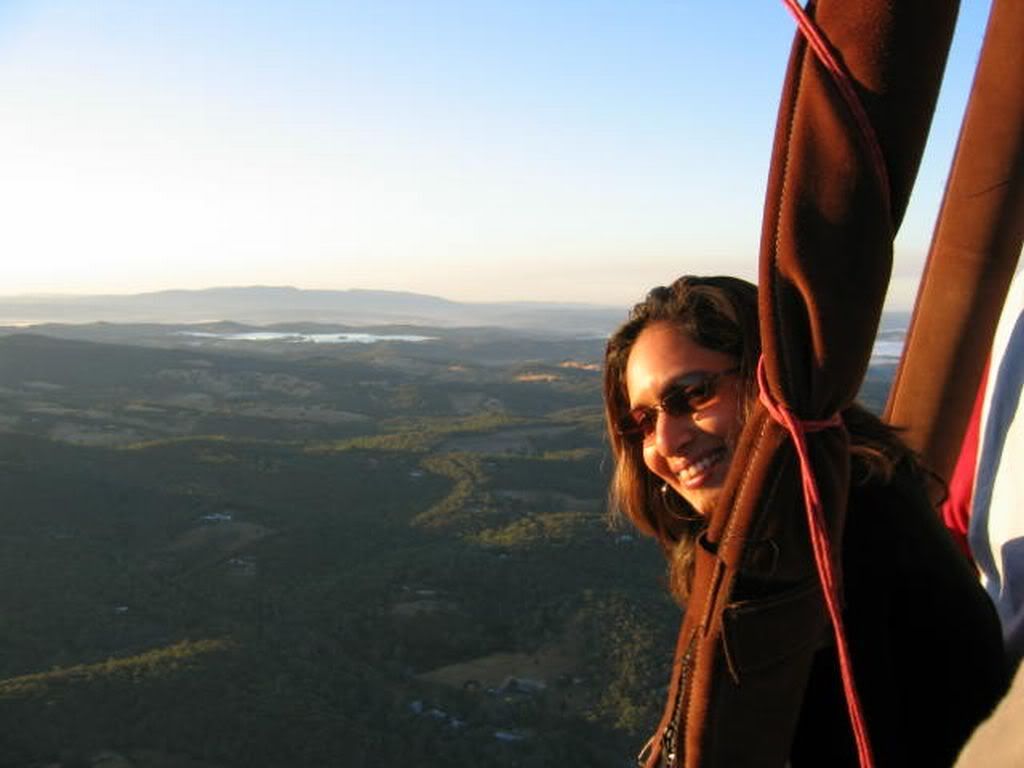 Then...disaster struck...my camera ran out of battery power...WTF...i couldnt believe how silly i was...a present of such magnitude...only to be let down by some man-made device...what a cop out..
Unperturbed...i managed to take some nice shots...such as this...OMG we're hittin the tree!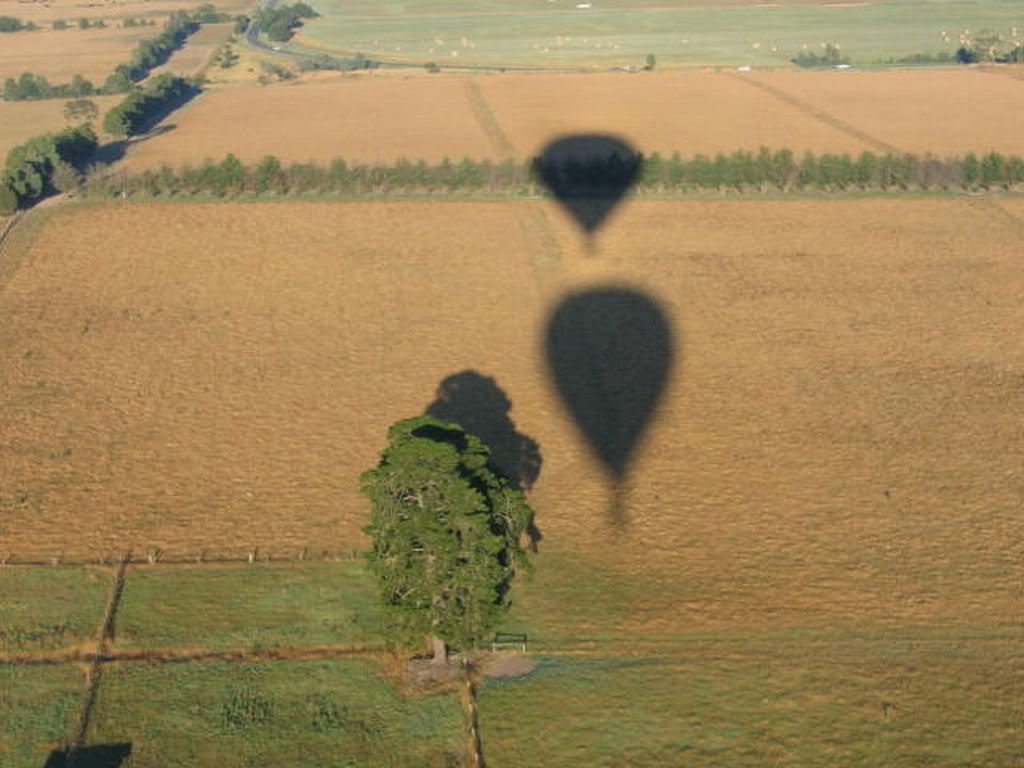 The camera incident not-withstandin...this was hands down...the best birthday present ive ever received...thank you my darlin...props to you...just a question...can i turn 26 every year? *kisses*
Subscribe to Posts [Atom]